hywards - stock.adobe.com
India's 2020 budget to boost local tech sector
A flurry of investments in quantum computing, datacentres and broadband connectivity is expected to shore up India's technology industry from this year
India's latest budget is set to boost the country's technology industry through investments in quantum computing, datacentres and broadband connectivity.
Among these investments, which are key to the Narendra Modi government's target of turning India into a $5tn economy by 2025, the Rs 80bn (US$1.12bn) outlay over five years in quantum computing was significant, according to GlobalData, a data and analytics company.
"The quantum computing race already has stiff competition, with companies like Amazon, Google and IBM in the fray," said Nishant Singh, head of technology and telecoms data at GlobalData. "The Indian government's move should boost the attempts of domestic technology providers, who have been keen to enter this field, but so far did not have the necessary scale or resources.
"From the government's perspective, quantum computing and its related applications will have significant implications for India's digital citizen initiatives in healthcare, smart cities and research. For the wider technology sector within India, it would mean attaining indigenous capabilities in quantum technologies, which they can leverage commercially."
India is also planning to build datacentre parks throughout the country with the support of the private sector.
Singh said the additional capacity is necessary to cope with the volume of data that would be generated if the government continued its digital initiatives for citizens, while paving the way for privacy regulations in India.
"Datacentre parks within India, coupled with better privacy regulation, will ensure the privacy of the data of Indian citizens, and provide a legal framework for the protection of data by ensuring that the data stays within the boundaries of India," he added.
To bring internet connectivity to more villages and small towns, the government is earmarking Rs 60bn (US$840m) to link 100,000 gram panchayats, or local self-governing villages and townships, to the national BharatNet broadband network. It also plans to link PAN (a unique identifier for filing taxes) with Aadhaar, India's biometric identification system.
On the smart cities front, the Indian government is planning to replace conventional meters with pre-paid smart meters over the next three years. Singh said this will help to minimise power distribution losses, enabling real-time energy usage information and paving the way for a wider smart grid network across parts of India.
In healthcare, plans are afoot to leverage artificial intelligence (AI) and machine learning, though this will only become a reality if the government implements a standard electronic medical record system, Singh said.
To broaden access to education, the government also announced degree-level online education programmes by the top 100 institutions in India's national institutional ranking framework. According to GlobalData, ICT investments in the Indian education sector account for just 1.5% of the overall ICT investments.
"The fact that these online programmes will be from top institutions, and will award degree-level certifications, could be a major impetus in creating a job-ready India, which as indicated by the finance minister, will have the largest working-age population in the world by 2030. Initiatives such as these will also help improve the current levels of technology integration in the Indian education system."
India's tech sector currently makes up around 8% of its GDP. According to GlobalData, the domestic enterprise ICT market in India was expected to grow at a compound growth rate of around 7% for the next five years.
"The initiatives announced by the government should provide a considerable boost to the domestic ICT market, and we believe the growth can be higher – very close to the double-digit mark, if such initiatives and incentives for the technology sector continue in the subsequent union budgets as well," Singh said.
Read more about IT in India
Content Continues Below

Download this free guide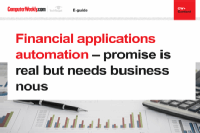 Financial applications automation – promise is real but needs business nous
The automation of the financial software that lies at the heart of any business & accountancy, budget management, general ledger, payroll, and so on & is a prize many organisations are eyeing up, with machine learning and robotic process automation close to mind. Find out everything you need to know by downloading this PDF E-Guide.