Bobboz - Fotolia
Comms-platform-as-a-service revenues outpace unified-comms-as-a-service
Communications-platform-as-a-service uptake is benefiting from its ability to quickly add new functionality, the ease with which it can be customised and the flexibility of its pay-as-you-go service model
Only having recently acquired relative market acceptance, the communications platform as-a-service (CPaaS) industry is racing with both its market size and its growth rate, having now surpassed those of the closely associated unified communications as-a-service (UCaaS) market, according to data from Synergy Research Group.
The study shows that CPaaS revenues are on track to once again grow by over 40% in 2019. With revenues in the first three-quarters of the year having already surpassed full-year 2018 levels, Synergy is forecasting that the full-year 2019 market will grow threefold compared with just three years ago.
The analyst notes that it is of particular interest that CPaaS has found success in all regions as it can appeal in countries that have not yet fully embraced cloud communications. Synergy is forecasting strong 2019 growth across all regions. CPaaS pioneer Twilio is the clear market leader with a 32% worldwide share in the third quarter of 2019, followed by Vonage, Bandwidth, MessageBird, Sinch and Voxbone.
"CPaaS uptake is benefiting from its ability to quickly add new functionality, the ease with which it can be customised and the flexibility of its pay-as-you-go service model," said Jeremy Duke, Synergy Research Group's founder and chief analyst.
"While Twilio is something of a poster child for CPaaS and is the market leader in all major regions, most of the leading vendors are enjoying strong revenue growth. Across all of the major UC collaboration market segments, CPaaS now has the highest growth rate."
Read more about collaboration
Content Continues Below

Download this free guide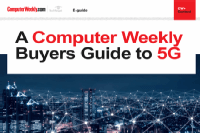 A Computer Weekly Buyers Guide to 5G
Despite the fears of many that rollouts of the next generation infrastructure would be delayed or just not be possible due mainly to the adverse economic conditions caused by Covid-19, the prospects are actually quite bright for the 5G industry in 2021. Download this EGuide to find out what enterprises need to know about 5G.
Read more on WAN performance and optimisation