Sergey Nivens - Fotolia
'Poor' comms and collaboration tools cost UK plc over £7,500 per employee per year
Survey reveals workplace productivity is deeply impacted by an organisation's communications and collaboration practices and technology
Continued deployment of antiquated collaboration tools is holding back UK businesses to the tune of multiple thousands of pounds a year, according to a global study commissioned by Mitel across a variety of verticals from the UK, the US, France, Germany and Australia.
The study – Workplace productivity and communications technology survey: How employee communications and collaboration impacts your bottom line – involved 2,500 business professionals and was conducted by research firm Vanson Bourne with advisement and analysis from KelCor. It found that globally, an average of 13% of an employee's day is wasted because of communications inefficiencies, equating to more than an hour a day in an average 40-hour working week.
Almost half (47%) of respondents said they have experienced friction between employees and/or departments because of inefficient communications and collaboration, and nearly a quarter (24%) said inefficient communications have had a negative impact on customer satisfaction.
The study concluded that the cost of lost business, employee attrition or missed opportunities is having a hidden impact on many organisations' bottom line. It noted that, on a global basis, communications inefficiencies resulting in more than $10,000 per employee per year being wasted.
In the UK alone, poor communications and collaboration solutions were found to be costing UK businesses the equivalent of £7,675 per employee per year. That equated to more than one-third of the average UK office worker's salary being wasted, the report said.
Despite the widespread availability of advanced unified collaboration and communications technology, as many as half of UK offices regard face-to-face meetings as the most effective communications medium, while respondents indicated that more than one-fifth of the time spent in meetings was wasted.
Employees were inclined to "use what they know" when it came to communications and collaboration tools. Phone and email still dominated the top five most-used communications methods (97% each), while face-to-face meetings were still considered the most effective way to communicate (53%).
The good news was that survey respondents were generally optimistic about how technology can help them improve their personal productivity. Lack of training and resistance to change were seen as the biggest inhibitors in the adoption of modern communications and collaboration tools, but three-quarters of respondents felt better communications and collaboration tools would improve their personal productivity. Respondents expected to use online shared workspaces (45%), chat/messaging (51%) and video (39%) tools more frequently in the future.
Read more about collaboration
Mitel noted that the findings showed businesses have an opportunity to lessen the impact of lost productivity by aligning their tools, processes and culture to achieve better results. When it comes to communications and collaboration, clear leadership, improved planning, effective training and employee education on the goals and benefits of the tools could have a strong positive impact on adoption and return on investment.
Mitel suggested that the real obstacles that organisations must overcome are not rooted in the tools themselves, but insufficient training (32%) and resistance to change (25%) were the biggest culprits. It said the study confirmed that digital transformation is broader than simply implementing technology, and requires careful and strategic shifts in an organisation's culture and processes.
"Employees are asking for a seamless communications and collaboration experience, one that is consistent across the organisation, across devices and integrated with their daily workflows," said Mary McDowell, president and CEO of Mitel. "The most successful organisations will be those that combine their implementation of advanced communications and collaboration technologies with strategic change management practices to empower employees and improve the customer experience."
Brent Kelly, principal analyst at KelCor, added: "The data in this survey clearly shows that overall workplace productivity is deeply impacted by an organisation's communications and collaboration practices and technology. If employees really do deliver the productivity improvements they say they can with strategically aligned communications and collaboration solutions supported by training and management, the benefits will far outweigh any of the costs associated with planning, purchasing and deploying a consistent and seamless communications and collaboration experience across the enterprise."
Content Continues Below

Download this free guide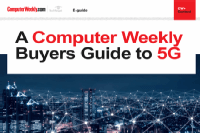 A Computer Weekly Buyers Guide to 5G
Despite the fears of many that rollouts of the next generation infrastructure would be delayed or just not be possible due mainly to the adverse economic conditions caused by Covid-19, the prospects are actually quite bright for the 5G industry in 2021. Download this EGuide to find out what enterprises need to know about 5G.