Boggy - stock.adobe.com
Cisco promises CIO digital transformation gains with new collaboration suite
Suite deploys artificial intelligence to create a personalised meetings experience
Cisco has unveiled a new suite of collaboration tools to help senior IT management digitally transform their organisations. The suite focuses in particular on protecting existing investments in conferencing technology while speeding up the overall workplace transformation.
Cisco says its new suite of products can help CIOs transform their workplaces more quickly. All workloads – calling, messaging, meeting, devices and contact centre – are delivered over a global backbone optimised for real-time media in an integrated fashion from a single platform, it says.
The aim is to deliver a consistent meeting experience regardless of device or location, says Cisco. Call, message and meet tools apps have been unified, and apps can be configured to align to each group's needs or workstyles.
The suite also deploys artificial intelligence (AI) and enhanced white boarding to create a personalised meetings experience, with an enhanced immersive quality, it says.
The latter aspect is an evolution of Cisco's telepresence technology, which is designed to make teams feel like they are sitting in the same room together, but with access to AI-based tools that Cisco claims will make meetings more meaningful and actionable for businesses.
Amy Chang, executive vice-president and general manager, collaboration at Cisco, said: "For CIOs, giving employees amazing collaboration experiences shouldn't be hard. They should be able to give employees the best collaboration tools on the planet. And tools should be super-secure and simple to manage."
Read more about collaboration tools
Content Continues Below

Download this free guide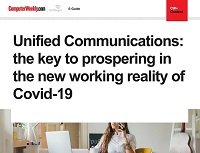 Unified Communications: the key to prospering in the new working reality of Covid-19
The coronavirus is changing everything about how people work, and will do so permanently. It added that even though the working world was experiencing unprecedented uncertainty, there were two things that should be borne in mind: the virus will pass, and at the other side of the pandemic, the world of work will look very different.
Read more on Unified communications