NGD aims to give data centre channel partners perfect PUE
Data centre operator Next Generation Data (NGD) has pledged to offer its service provider and reseller clients a power usage effectiveness (PUE) ratio of 1.0
Data centre operator Next Generation Data (NGD) has pledged to offer its service provider and reseller clients a power usage effectiveness (PUE) ratio of 1.0.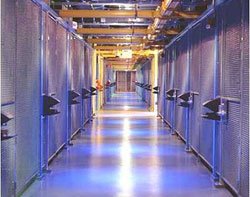 The 'perfect' PUE – though unobtainable according to some critics – will give NGD's channel partners a massive positioning advantage with green conscious clients, according to the operator.
"We're committing to a PUE of 1.0, so that's what our partners can offer their clients," said CEO Nick Razey, "even if we didn't provide it, we're paying for it anyway, so we're putting our money where our mouth is."
The data centre operator is looking to add to its 15 reseller partners, who host services for clients at its 750,000 square foot Newport facility. NGD's claim for perfect PUE is based on its plan to install 4,000 photovoltaic (VP) solar panels on the roof of its facility. This will give the operator a potential one million kilowatt hours (KWh) of green electricity per year.
By using that zero carbon electricity to power its free cooling system and by sourcing its mains power from Smartest (which claims to be an aggregator of 100% renewable sourced power), NGD can make the claim to have a perfect power usage effectiveness, according to Razey. More importantly, he said, it gives resellers a strong proposition to offer corporate clients, who are increasingly anxious to meet carbon reduction targets.
Some critics have poured cold water on the claims however. "To get a perfect PUE, every last electron of power used in the facility has to go into the IT equipment. Nothing else can draw any power from any source – even from renewables," said market analyst Clive Longbottom, senior researcher at Quocirca.
"Even if they were using free-air cooling, no power could go into lighting, into any plug socket where someone may plug in non-IT related equipment. No reception desk, no temperature, moisture or fire sensor, no CCTV no UPS systems – they all take up power," said Longbottom. "So a perfect PUE data centre is prone to backup disaster, is unfriendly and insecure."

PUE is an imprecise metric anyway, said Andy Lawrence, 451 Research data centre analyst: "The Green Grid is aware that of the limitations of this metric and that is why it introduced CUE (carbon usage effectiveness), useful work and other metrics,"

Razey, however, was adamant that there is a clear message to hosting partners and clients, who already include BT, CGI, IBM and Wipro Technologies, as well as local service providers and resellers. "This gives us a whole new proposition. We provide the colocation - the systems integrators provide the cloud platform for their clients. It's all about creating a very clean channel."