EMC boss wants more channel sales
EMC's CEO Joe Tucci has talked of its ambition to increase channel sales at an investor event
EMC's CEO has recognised the need to push more of its business through the channel to increase revenues from partners above the 50% that resellers contribute.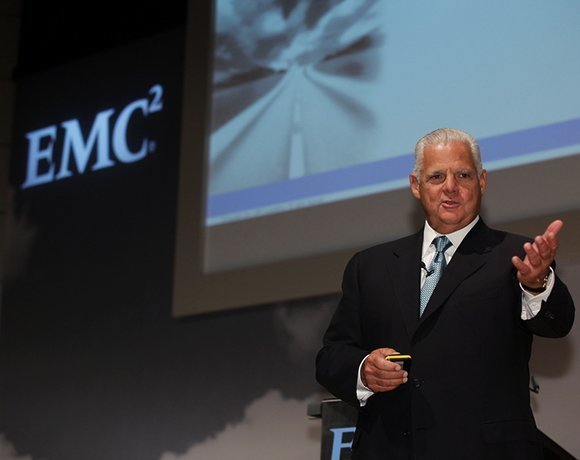 In comments in a Q&A session following his presentation to the Wells Fargo Technology, Media & Telecom conference that were captured by Seeking Alpha EMC's CEO Joe Tucci talked up its channel ambitions.
"Going back 10 years ago, we sold 90% of everything we sold through direct sales. We are now selling 50% of everything we sell, over 50% and two-thirds of everything that's say below to high-end. And those numbers both need to go higher," he said.
But he added that it also recognised that partners needed to change their own businesses to ensure they were able to sell "third platform" products and services.
"IT itself is in a time of transformation. This talks about the three major platforms - from mainframe to client server, PC to what we now we call the third – heading into the third platform of IT, which is highlighted by massive mobile, now the mobile devices, cloud computing, Big Data predictive analytics and of course social networking," he said.
Tucci was pressed on what the changes in the market would mean for its channel partners and just what the vendor was doing to help them position themselves for the future.
"There is a shift in which kind of channel partners you are going to need for both today and the future. So, those are some of the things we are working in the background and why you see some of our new channel programs like you have alluded to," he said.
"We are investing a lot more money helping certify and educate our channel. And they like it, because it gives them a big window. I mean, they see those same statistics I present you. I mean, you don't only want to play in a market that's flat. Do you want to play in a market that's flat? Yes, because it's big. If you want to play in a market that's growing and to do that they are going to have to develop new skills and we are driving there," said Tucci.
"I think most of the channel partners, if they want to dedicate themselves to the mission, will – can make it, but I think there is a number that will not and then there is new ones that will be attractive. But everybody is going to have the opportunities, we are going to try to invest in all the ones that are willing to step up to the bar and say okay, I am willing to go through this kind of change and process," he added.