Symantec follows the HP example and opts to split
Just a few days after HP hit the headlines for splitting into two companies the same decision has been reached by Symantec
First there was eBay, then came HP and now Symantec has opted to split its business operations into two in an effort to encourage better growth prospects across its entire product portfolio.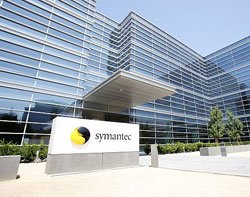 It has been an autumn of splits with eBay starting things off back in September, with its decision to hive off the PayPal business as a seperate operation. That was followed at the start of this week by HP deciding to divide its operations into a PC and printers business and an enterprise hardware, software and services entity.
Symantec has now indicated that from the end of next year it will also become two trading companies, with one handling security and the other information management.
It is the first major decision to be taken by the CEO Michael Brown, who only took up the post permanent a few weeks ago after a stint as boss on an interim basis, and he will be the head of the $4.2bn security business.
The information management company, with revenues of $2.5bn in the 2014 fiscal year, will be headed by John Gannon, who was formerly the president and COO of Quantum and has a spell as head of HP's commercial PC business on his CV.
Symantec has a long track record in the security business but then expanded into storage and data management when it acquired Veritas back in 2005 for $13.5bn. This split will essentially redefine the firm in two distinct markets and should make it easier for the channel to align itself with the different portfolios.
"As the security and storage industries continue to change at an accelerating pace, Symantec's security and IM businesses each face unique market opportunities and challenges. It has become clear that winning in both security and information management requires distinct strategies, focused investments and go-to market innovation," said Symantec's CEO Brown.
"Separating Symantec into two, independent publicly traded companies will provide each business the flexibility and focus to drive growth and enhance shareholder value," he added.
Both firms will be given the chance to form their own partnerships and develop independent M&A strategies as well as having their own go-to-market capabilities. The split is expected to become a reality in December 2015.
Read more on Enterprise Storage Management