EMEA server revenue shows signs of recovery
Gartner's latest numbers indicate that the server market across EMEA has started to recover
Server sales across EMEA have shown growth for the first time in three years as the declines in the market start to reverse as economic conditions improve.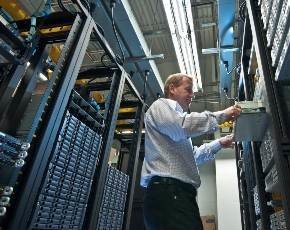 According to the latest Gartner figures EMEA server revenues have grown despite overall shipments falling by 6.1% to 547,900 from the first quarter of 2013 revenue totaled $3.0bn, an increase of 2.5% in the first quarter of 2014.
"Although shipments contracted, the fact that the server market has finally shown revenue growth will be a welcome relief for server vendors," said Adrian O'Connell, research director at Gartner. "The business environment in EMEA remains challenging, but the severe declines that we've witnessed in the non-x86 product segments have abated, at least in the first quarter of 2014."
Splitting the figures into regions shows the increase is all due to the Western Europe market with an increase in 6.7%, while Eastern Europe fell 14.5% and Middle East and Africa region declined 3.6%.
Looking at form factors, x86 server revenue increased 3.4%, but RISC/Itanium UNIX revenue declined by the same amount and the Other CPU segment saw a rise of 8.6%.
"Platform migrations continued to be a factor but the rate of these declines has slowed and the worst rates of decline may be behind us," said O'Connell.
At the top of the big five in EMEA HP extended its revenue share lead with 5.1% growth, despite experiencing a slight decline in server shipments, benefitting from its competitors' difficulties.
Second-ranked IBM showed an 8.7 % decline due to weak product lifecycles, and additional weakness for its x86 business while third-placed Dell suffered after a very strong first quarter in 2013.
"After some challenges in 2013, vendors will be relieved to see 2014 get off to a relatively good start," said Mr. O'Connell. "The demand environment is stabilizing but challenges remain. We expect users will continue to be conservative in their investments for some time and platform migrations will remain a challenging factor. We are likely to see revenue growth in 2014, but the reality is that the market is operating from a significantly lower level than it was prior to the downturn in 2008."