Profits dip at Microsoft despite Windows 8 launch
Microsoft has reported a profit drop despite the October launch of Windows 8 as it talks up its decision to enter the hardware market with the Surface tablet
The impact of Windows 8 on Microsoft's bottom line turned out to be steady rather than explosive with the vendor also suffering from a slowdown in Office sales as users wait for the next version to be released.
The software giant revealed that profits in its second fiscal quarter came in at $6.4bn, down from the $6.6bn it enjoyed a year earlier, and sales rose by 3% to $21.5bn.
The Office unit saw sales drop by 10% to $5.7bn, which can be largely explained by the pause before the launch this quarter of the next version of the vendor's productivity suite.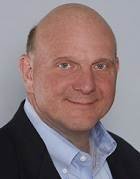 Windows sales did see an increase of 24% to $5.9bn and 60m licenses have been sold since the launch at the end of last October but it was not quite the explosive growth that some market watchers had been hoping for.
Although the vendor did not break down the details of how sales of its Surface tablet have fared it did indicate it will extend distribution of the product and increase production.
The focus will now shift to products, including Office, that play more to the enterprise market with Kevin Turner, COO at Microsoft, talking up its prospects in that segment.
"We see strong momentum in our enterprise business. With the launch of SQL Server 2012 and Windows Server 2012, we continue to see healthy growth in our data platform and infrastructure businesses and win share from our competitors," said Turner.
Microsoft CEO Steve Ballmer was his usual upbeat self talking of how it had been bold to "reimagine Windows" and enter the hardware market with Surface.
"With new Windows devices, including Surface Pro, and the new Office on the horizon, we'll continue to drive excitement for the Windows ecosystem and deliver our software through devices and services people love and businesses need," he said.