Savng money not the planet driving eco sales
From a vendor marketing perspective, green IT has generated demand for information on energy efficient technologies and services, but the hype is in danger of confusing customers, or creating expectations that cannot be met.
From a vendor marketing perspective, green IT has generated demand for information on energy efficient technologies and services, but the hype is in danger of confusing customers, or creating expectations that cannot be met.

Download this free guide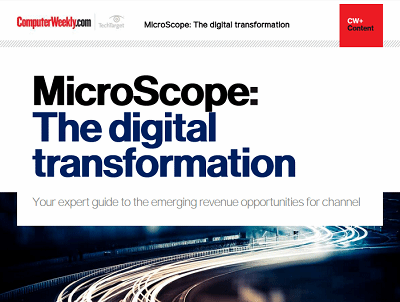 Emerging revenue opportunities for the channel with digital transformation
Digital transformation is a phrase that means many things to many people but for it to have any real relevance to the channel then it needs to mean a chance to make money. This guide will share some of the recent developments in the channel and the latest thoughts about the issue.
By submitting your personal information, you agree that TechTarget and its partners may contact you regarding relevant content, products and special offers.
You also agree that your personal information may be transferred and processed in the United States, and that you have read and agree to the Terms of Use and the Privacy Policy.
In the past two years, rising energy bills and the realisation of the power consumed by technologies - servers, in particular - has forced vendors to re-examine their green credentials and encouraged IT departments to re-think their strategies.
Governments have also raised a issues such as energy management, carbon trading, and the cost and provision of power in data centres, said Rakesh Kumar, principal analyst at Gartner.
"However, for many users there is confusion and cynicism. Not all organisations are convinced of the payback in terms of financial, brand or social consciousness, and many are playing a wait and see game," he said.
The myriad of green solutions that are emerging can confound many companies, and users are faced with the need to segment these issues into immediate, mid-term and longer-term opportunities, Kumar added.
The channel should be wary of simply peddling a green message without the requisite strategy and execution plan to manage against it, said the analyst.
"For channel companies, a lot of technology is being painted as green but falls into the category of greenwash. Be diligent in researching the vendor, the product and the green credentials prior to building a solution around a technology," he said.
SCC has been running customer events to explain ways to improve energy efficiency across the organisation. Director for enterprise partners, Peter Spreadbury, said customers remained genuinely interested in reducing energy bills.
But he warned, "The concept of green IT has had its day in terms of marketing. We don't think there needs to be a potential 'save the world' message, eco has moved from ecological to economical."
There had been a lot of vendor hype, said Chris Gabriel, marketing and solutions director at Logicalis, but he argued that many were "wising up and becoming smarter".
"You will struggle to get the ear of the business if you go in with a simplistic environmental message," he said. "Most are looking at projects to improve efficiencies that will pay for themselves in the next 18 months."
Some IT directors have been put in charge of utilities and facilities functions, so the cost of running a data centre was more visible to them, said Nathaniel Martinez, programme director in IDC's European System Infrastructure Group.
"Businesses only react to environmental messages when it relates to a cost equation and they can see the benefits they derive from power-efficient technologies. They will not pay a premium to go green," he said.
The topic seems to polarise around server systems and the data centre, where power consumption is at its greatest but a lack of industry standard benchmarks has hindered IT managers' ability to rate platforms' energy consumption.
The US Environmental Protection Agency (EPA) released a draft of its Energy Star specification in February, which applies to servers ranging from two-socket 1U commodity boxes to SMP machines with more than 1,000 processors.
Andrew Fanara, head of the Energy Star product development team in the US, told MicroScope that the EPA hoped to have the process of collecting data from vendors and customers complete by the end of the year, with labels on servers by January 2009.
"We expect our Tier 1 specification to address a wide range of server types and sizes. However, we do not expect transformation overnight. It will take time to educate IT customers to look for the EStar designation and how to make use of it," he said.
In the meantime, resellers should be wary of regurgitating some vendors' marketing claims because they may find themselves having to placate angry customers.
Read more on Topics Archive