Under fire Apotheker sets out cloudy HP strategy
Apotheker has sought to distance himself from growing levels of criticism of HP and unveiled a new strategy for the company, with the emphasis firmly on cloud and connectivity.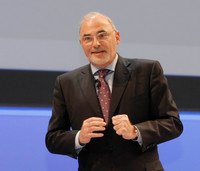 Léo Apotheker has sought to distance himself from growing levels of criticism of HP and unveiled a new strategy for the company, with the emphasis firmly on cloud and connectivity.
Apotheker, who succeeded Mark Hurd as CEO last year, has been pilloried in recent weeks after presiding over declines in HP's PC and services businesses, and has even faced accusations of stuffing the board with friends from his SAP days.
Presenting at an event on Monday evening, Apotheker said that the convergence of cloud computing and connectivity was causing a sea change in how businesses operate, with on-premise proprietary ICT resources being augmented and even replaced by cloud installations.
HP will take the view that a hybrid environment combing traditional ICT with private and public clouds will be the prevailing model, and claimed that its services portfolio left it well-placed to exploit this opportunity around clouds and connectivity,
"HP is well-positioned to be the leader in addressing this opportunity," said Apotheker.
"[Our] scalable, converged infrastructure forms the backbone of today's cloud computing, and we expect our leadership in software, services, PCs and web-connected printers to give us a huge advantage as we help define, deliver and run the truly connected world."
Apotheker said HP would attempt to extent its position in the traditional ICT space; leverage its cloud strength to build and manage cloud-based architectures; become a trusted partner to customers by helping them move to hybrid environments; and define and deliver the "connected world from the consumer to the enterprise".
Among the steps to be taken in the near future are the launch of an open cloud marketplace including a consumer app store and an enterprise application catalogue and the transformation of Palm's webOS into a leading connectivity platform. HP has already set out plans to include webOS on its Windows PCs by 2012.
Apotheker's plans have been well received by some. Charlie Cowan, CEO at cloud services outfit Keboko, said it would be a boon to SMEs.
"All too often, cloud vendors focus on developing services for the enterprise, when actually it is small firms that have the most to gain from this technology. The cloud offers small businesses a level playing field with the enterprise, giving them access to bespoke applications that previously would have been out of reach. And due to their size, it's much easier for SMEs to move to the cloud," he said.
However, others have already put the boot in, with IBM's technology services senior vice president, Mike Daniels, doubting HP's ability to integrate its software and services propositions.
"It's not like we have a company that has a software strategy and then a services strategy or a hardware strategy. I think it would take a long time for anybody to accumulate the kind of capability that we have," he told journalists.
In a note this morning, TechMarketViews analyst Anthony Miller said Apotheker's speech had been light on substance.
"We could see little on how he intends to get all the moving parts to mesh rather than grate. Unlike IBM, HP still carries both a PC and a printer business, which attract far more attention from investors than its software and services activities," said Miller.
"Whether the juggernaut that is HP can really dance in the cloud, well that's a different question entirely," he added.