Brown broadband pledge raises troubling questions
The industry has been voicing concerns in reaction to this morning's speech by Gordon Brown in which the PM set out Labour's plans to hook up every UK household to high-speed broadband by 2020, should the government remain in power.
The industry has been voicing concerns in reaction to this morning's speech by Gordon Brown in which the PM set out Labour's plans to hook up every UK household to high-speed broadband by 2020, should the government remain in power.

Download this free guide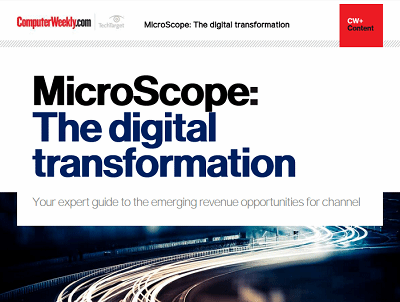 Emerging revenue opportunities for the channel with digital transformation
Digital transformation is a phrase that means many things to many people but for it to have any real relevance to the channel then it needs to mean a chance to make money. This guide will share some of the recent developments in the channel and the latest thoughts about the issue.
Referring to broadband as the "electricity of the digital age" Brown said that super-fast broadband must be made available to everyone, and is widely expected to announce plans to this effect in Wednesday's Budget, his last before the General Election.
Labour's plans include giving every UK citizen a personalised web page for accessing services within four years in an attempt to cut up to £4bn in costs.
Des Speed, CEO at public sector network provider Lagan Technologies, said that the idea of a personal Facebook-style web page was eye-catching but no panacea, "unless they form part of a more coherent service management and delivery strategy."
"In our experience, any government to citizen implementation must be designed with the benefits in mind before any decision is made about the tools," Speed added.
Cost-cutting through forcing public services online would also mean many face-to-face government services face potential closure, raising concerns not only for public sector jobs, but more troubling questions over access to vital services should the Digital Economy Bill be passed.
In a statement sent to ComputerWeekly.com, Jim Killock, executive director the Open Rights Group, a digital campaign outfit, said the government couldn't make plans to deliver every service online whilst simultaneously planning to disconnect families after allegations of copyright infringement.
"The only consistent and reasonable way forward is to drop clauses 11-18 of the Digital Economy Bill, that would allow thousands of families to be cut off the internet," he said.
Many initial concerns over the content of Gordon Brown's speech centre around the state of Britain's network infrastructure, as Colin Rowland, senior vice president of EMEA operations at online transaction management outfit OpTier pointed out.
"The success of this project will be the ability to integrate multiple systems through one portal, seamlessly to the end user. IT will be crucial for the government to ensure that the infrastructure and IT systems are up to task and able to cope with the massive surge in online usage that a system used by 60 million people could cause," he said.
"Online technology can only save the government millions if supported by the correct level of investment in background technology," he added.
Paul Richens, proposition manager at SMB ISP Eclipse Internet trod a similar path, saying: "Ultimately the government needs to focus on ensuring that every part of the country has the right level of access. There are parts of Cornwall where the level of service is so poor broadband is virtually unusable."
Richens said there was no doubt in his mind that the government would save money through providing universal super-fast broadband, businesses would also be able to piggy-back on the new infrastructure to provide services and applications that at present, they did not have the bandwidth for.
Meanwhile, database provider Ingres spoke up for open source, saying that the multi-billion pound saving targeted by the government could only be achieved through the adoption of open source technology.
Ingres executive vice president of worldwide operations Steve Shine said: "This is a huge undertaking that cannot be achieved if government continues to commit to long-term, monopoly supply situations.
The Conservative party claims that the government could save at least £600m per year if it adopted a more effective open IT procurement process."
Urging the government to enforce the ideas put forward today, he added: "Right now there is a very large negotiation underway to renew Oracle's contract with the MOD which in theory should be put to competitive tender but sadly is being conducted behind closed doors."
The digital economy, and in particular access to the Internet, is shaping up to be a key election battle in the wake of last year's Digital Britain report. The Conservatives have already pledged to force BT to open its ducts to rivals and made plans to topslice a portion of the BBC's TV licence revenues to fund high-speed access.
Read more on Network Infrastructure Solutions and Services