Delivering power where it matters
One of the subjects in the channel that has become a daily discussion point in the past year is power. Everyone wants to know how much power they are consuming, and which bits of kit suck up the watts and push out the heat that contributes to even more energy being consumed to try and cool it down.
One of the subjects in the channel that has become a daily discussion point in the past year is power. Everyone wants to know how much power they are consuming, and which bits of kit suck up the watts and push out the heat that contributes to even more energy being consumed to try and cool it down.

Download this free guide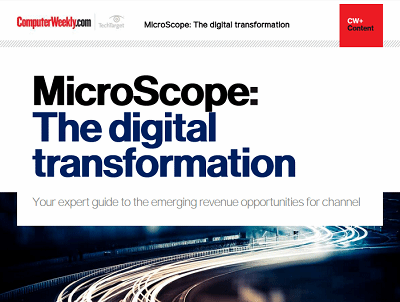 Emerging revenue opportunities for the channel with digital transformation
Digital transformation is a phrase that means many things to many people but for it to have any real relevance to the channel then it needs to mean a chance to make money. This guide will share some of the recent developments in the channel and the latest thoughts about the issue.
Combined with huge campaigns to promote the green message, the number of people looking at energy is reminiscent of the efforts that were made in the run-up to the millennium bug.
Among all the voices shouting out about power and the environment there are the views of the uninterruptible power supply (UPS) community and conversations they are having with dealers have changed significantly.
The UPS community works hard to promote its technology to ensure that users and companies are protected from blackouts, brownouts and surges, but it has struggled to get reseller engagement.
In the past, part of the problem was a lack of knowledge about the products and the function UPSs served. But then the manufacturers started producing catalogues and demystified the kit as well as making an effort with the design to make it all look rather more appealing.
However, alongside that ignorance there was also a level of apathy that often prevented the reseller from asking that additional question at the point of sale about whether or not the customer had power protection.
Both of those problems continue to a certain degree but with a fair number of customers scratching their heads over their data centre design, it has put power and protection firmly in the spotlight.
Paul Tyrer, regional vice-president of APC-MGE UK & Ireland, explains: "In some respects the market is unchanged as far as standalone installations are concerned where a good proportion of UPSs are sold at the same time as the servers they protect.
"Modern servers tend to have a higher power draw than older generation devices. However, newer generation UPSs are more powerful and afford more runtime than the devices they have superseded, so the status quo is maintained."
But it is at the other end of the scale where things have started to change in the UPS market.
"In larger installations such as computer rooms and data centres, there have been major changes. Legacy facilities were built to a specification with fixed power and cooling infrastructure to service a predetermined capacity. This approach reached the limits of its usefulness at about the same time as the dotcom era came to an end," says Tyrer.
"Subsequently, the rapid growth in the number of servers and storage devices coupled with the compaction of these devices has created a major challenge to the people that own and manage technical rooms."
Tyrer identifies one of the key requirements of any product that goes into a high density mission-critical environment like a data centre: "The market therefore needs UPS systems, which are modular and can be extended through the addition of power modules and battery cabinets.
"Second, while it appears inevitable that these rooms will be required to house increasing levels of equipment, there is uncertainty about the future," he adds.
"The market therefore requires a system that is scalable according to need, allowing a pay-as-you-grow approach to be taken."
Tyrer concludes the customer wish list by pointing out that because power and cooling are linked there is a demand for systems that demonstrate joined-up thinking in the way they are designed and built.
Those changes in customer demands have been accompanied by the boom in green thinking and have given anyone who can talk sensibly about power a foot in the door of many decent sized customers.
Tap 'uninterruptible power supplies' into Google and the response shows that manufacturers are boasting about the products in areas such as high density servers, factory automation systems and even the Olympic Games.
Robin Koffler, general manager at Riello, points to the strain on data centres growing even more as data keeps piling up.
"Anyone associated with data centres and internet service provision [will be looking at power]. There are investments going on in new data centres and refits of ones that were put in six years ago," he says.
Koffler points to predictions that data will continue to grow, quadrupling in the next 20 years, as evidence, if it were needed, that the current landscape is not going to change.
What will change is that the demand will be for more compact UPS devices that can help drive down not just power costs but also be designed so that the unit does not add to the heating bill.
"The UPS will become smaller and more effective. In a data centre 30 per cent of the
power is going on cooling and there companies need help reducing footprint and heat output," says Koffler.
He can point to several UPS specialists in the channel that are prepared to make a tremendous effort on a sale and will work in partnership with those resellers that cannot put muscle behind a UPS proposal.
Riello works on the relationship front, putting resellers in touch with each other to make sure opportunities that might have been lost in the past are kept in the channel.
"If you look at a lot of the established resellers they have had trouble selling UPSs in the past, so they don't sell them. But a large segment of professional UPS resellers has opened up and they will go and do all the work," he adds.
That emergence of a power reseller network has ensured that the UPS industry is better represented at the coalface.
But it also means that more customers should be aware of the benefits of a UPS, which can help manage power consumption as well as offer protection.
If there are any lessons that can be learnt from the experiences of those areas that have already suffered power problems, with California being a good example, it is about shifting consumption patterns. One of the aims of those in California in charge of the energy policy is to shift more people to using power in off-peak times. The deal struck recently to supply UPSs for the state's telecoms structure reflected that aim.
As the technology moves to a situation where in some cases it is going to be sold on not only its environmental credentials but also its power, then UPS will play a crucial role.
Koffler is quick to reassure that the UPS industry has already started to make moves to get its own house in order, particularly around the issue of battery disposal.
Those resellers that have traditionally shunned the UPS area might find that not only are customers starting to talk about it but it could be a product that helps them to establish important channel relationships.
One of the most important developments along with the power and green debate is the emergence of partnerships in the channel around selling UPSs. The old barriers of apathy and ignorance can be swept to one side, and as a result of partnerships more resellers can make the UPS sale.
Read more on Sales and Customer Management