The return of 3Com
As far as the networking industry is concerned, there is a huge elephant in the room, and it's named Cisco Systems Incorporated. Admired, respected and feared in equal measure, in the wake of the 2001 dotcom crash Cisco executed a note perfect recovery strategy and left its old rivals.
As far as the networking industry is concerned, there is a huge elephant in the room, and it's named Cisco Systems Incorporated. Admired, respected and feared in equal measure, in the wake of the 2001 dotcom crash Cisco executed a note perfect recovery strategy and left its old rivals - including 3Com, Enterasys and Nortel - fumbling in the dark.

Download this free guide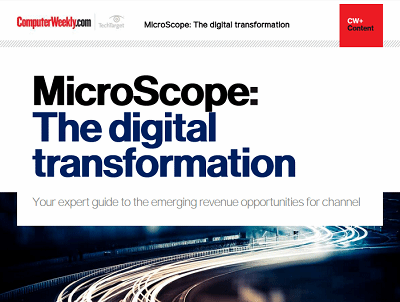 Emerging revenue opportunities for the channel with digital transformation
Digital transformation is a phrase that means many things to many people but for it to have any real relevance to the channel then it needs to mean a chance to make money. This guide will share some of the recent developments in the channel and the latest thoughts about the issue.

For many networking vendors, the lights have only recently begun to flicker back on, according to Mike Ansley, general manager for EMEA at 3Com, who believes the valuable lead that Cisco built up has cost the channel dearly.

"The value chain in our industry is sub-optimal right now," Ansley says. "Today, Cisco has such a large share of the market that most resellers and distributors are selling the same boxes and trying to differentiate on services. This has led to a difficult, tight and unhealthy market."

Becoming relevant




Ansley is candid in his admission that 3Com made itself somewhat irrelevant through some poor decision-making, and says the greatest challenge he faces in EMEA is to regain that relevancy.

"This is not to say Cisco is a bad company; it is exceptional and it has fully earned its position," he says. "But I have to create demand too, because my top 10 partners all sell Cisco, and 80% of them sell Hewlett-Packard."

Ansley accepts that 3Com's partners chose to represent other vendors precisely because his firm disappeared from their radar. He hopes that as the networking sector continues a seemingly relentless march towards commoditisation and the vendors drive up into new layers, such as applications and advanced technologies, 3Com will be able to make its partners add extra value and become more profitable.

Its main objective is therefore to get in front of as many users as possible and make as much noise as possible in the hope that they will start shouting about the vendor as well.

By recruiting direct touch sales teams to feed likely-looking leads back into a carefully selected channel, Ansley believes it is a strategy that is starting to pay off.

"I believe that 3Com, in many ways, is a start-up. I need to make sure that partners carrying six or seven networking brands are hearing 3Com from their customers," he says. "And we've had seven quarters of non-GAAP profitability. We've invested heavily and we're coming back."

Chinese whispers




During 2007, 3Com regularly hit the headlines after it received a takeover bid from a consortium led by Bain Capital, a technology-focused private equity firm, and Chinese networking vendor Huawei.

The deal, which 3Com came out in favour of, was in the end scuppered by security concerns, many of which related to work that 3Com subsidiary TippingPoint had done for the US government. Many American tech experts believed that allowing 3Com to fall into Chinese hands would compromise national security.

Following a drawn-out war of words in late 2007, allegations surfaced that Huawei had links to the Chinese military and had done deals in the past with unfriendly regimes. The deal went before the Committee on Foreign Investment in the US, and Huawei and Bain withdrew their $2.2bn (£1.1bn) offer.

But 3Com has not given up on China, says Ansley, and the firm believes the emerging Chinese tech economy can truly set it apart from its rivals. Earlier this year, it announced that following the departure of CEO Edgar Masri, his replacement Bob Mao would be located in China; a clear signal to the industry that whatever its detractors think, the future is in the Far East.

Part of the attraction lies in the immaturity of China's technology industry, and the comparative youth of its workforce, which has created a vibrant atmosphere reminiscent of the US and UK industries of 20 years ago.

According to Ansley, 3Com believes that as the basic infrastructure of the network - switches, routers and so on - becomes more and more of a commodity, having a significant part of the workforce based in a lower-cost environment pays dividends; out of approximately 6,000 3Com employees worldwide, up to 4,000 are understood to be based in China.

"If we can release 30% of our budget to high-margin applications and research and development, I have a great strategy to drive aggressive price reductions and still remain profitable," Ansley says.

"In the last quarter, 58% of Cisco's revenues were in North America, and 47% of ours were in China. North America is growing in single digits, and China is growing at 13% or more. The fact that we've got an early footprint there is incredibly important," he adds.

Challenging Cisco




For 3Com and the other networkers alike, the big question is whether or not there will come a point in the next few years when they can ramp up their businesses enough to present Cisco with a serious challenge. Ansley reckons it's on the cards, but cautions that it won't come soon.

"There's not going to be a magic bullet; it'll just be hard work. It's about recognising that networking has commoditised, and learning how to deal with that," he says.

Ansley continues: "3Com kind of disappeared back there. Our challenge now is we need to start showing up again, and the fruits of doing that are evident from the past seven quarters.

"You'll see more players coming back; Juniper is doing it, Avaya is doing it and has hired some very good people, but we all face the same challenge; Cisco owns the market and we all have to be pragmatic about where we are and where we're going," he concludes.
Read more on Channel Partner Programmes