Fill the skills gap
Despite the economic downturn, the skills crisis in the UK's IT and telecoms market does not seem to be abating, which is leading some channel partners to take matters into their own hands.
Despite the economic downturn, the skills crisis in the UK's IT and telecoms market does not seem to be abating, which is leading some channel partners to take matters into their own hands.

Download this free guide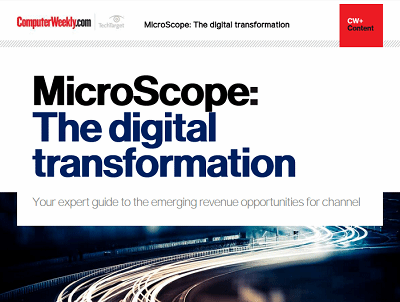 Emerging revenue opportunities for the channel with digital transformation
Digital transformation is a phrase that means many things to many people but for it to have any real relevance to the channel then it needs to mean a chance to make money. This guide will share some of the recent developments in the channel and the latest thoughts about the issue.
According to the "Technology Counts: IT and Telecoms Insights 2008" report produced by e-Skills UK, the sector skills council for IT and telecoms, about one in 20 of the UK's working population – about 1.5 million – is currently employed in this area.
About 888,000 work in the industry itself, predominantly in the service sector, and about 42% of the 109,000 employers are located in London and the South East, although, interestingly, as much as half of the labour pool works for as few as 328 companies.
A further 558,000 people, meanwhile, have in-house roles in other vertical markets, with financial services, public administration, education and health and manufacturing being the largest employers.
But these figures represent an almost doubling of jobs created in the sector since the early 1990s and such growth is expected to continue. While employment in the overall UK workforce is forecast to increase by 0.5% per annum over the coming decade, the IT industry is predicted to grow at five times that rate, although growth in telecoms will be much slower at closer to 0.3%.
The highest increase will be in the number of people employed in highly skilled roles such as IT managers, IT strategy and planning, and software professionals, with demand particularly strong in fields such as business process analysis and design, project and programme management, risk and business change management, systems architecture, networking, security and the web.
Jobs for lower skilled, entry-level workers in areas such as user support, database, software development and engineering roles, on the other hand, will continue to contract as such roles continue to move offshore.
This scenario reflects the fact that IT is a sector in transition, with the market being affected by everything from globalisation, a requirement for technology-enabled business transformation, the growing standardisation and industrialisation of IT, and the growing convergence of platforms, devices and services.
Other drivers for change, however, reflect societal shifts. These include a growing desire for green IT in response to increasing concerns over energy prices, the rise of social computing and the concomitant increase in consumer power to determine content and services as well as the change being brought about by the expectations of "digital natives" entering both the market and the workplace.
Short on business skills
Matt Collingwood, a branch manager at recruitment consultants ComputerPeople, confirms these trends. "I would say that these days employers are looking for individuals with a blend of high-level technical expertise, business skills, commercial exposure and soft skills. They want people that can act as a conduit between business and IT and someone that can hit the ground running," he says.
But Collingwood says that such personnel are far from widely available despite the economic downturn. "There is a definite move for people to become more business-savvy and to gain an improved understanding about what the business drivers are, but there is not the pool of experienced people available, particularly in operational areas rather than in management roles," he says.
And this scenario is reflected in the e-Skills report. It shows that the proportion of employees aged 16 to 29 has fallen from 32% in 2001 to 21% in 2007 as experienced workers from other sectors are increasingly favoured over young graduates.
The number of such graduates entering the profession, however, is also firmly in decline. From 2001 to 2006, there was a drop of 50% (to 13,500) applying to undertake computing-related degrees, with a similar decline in numbers willing to take computing at A-level.
Nonetheless, it is estimated that UK firms will need to fill about 180,000 positions each year between 2007 and 2012. Some 87% of openings will involve replacing staff if they change jobs, take sabbaticals, retire or leave the profession, but there will also be 23,000 newly created posts resulting from business expansion.
This means that more than one-fifth of IT and telecoms companies trying to recruit staff today are facing difficulties in attracting applicants with the right skill set – again most commonly because of a mismatch in terms of business and high-level technical skills requirements.
As a result, organisations are simply going to have to come up with more imaginative ideas about how to find new IT staff. Potential avenues include people switching to the profession from a non-IT or non-telecoms background, hiring from the ranks of the unemployed, taking on staff from government training schemes and employing people that are coming back to work after taking maternity leave or early retirement.
David Evans, head of government relations at the British Computer Society (BCS), says, "The industry should have started addressing this issue five years ago, but no one noticed the problem then. People have been slowly gearing up to do something about it over the past couple of years, but the reaction has been mixed and most companies are not taking concerted action to tackle the issue."
Although he acknowledges that there is no single solution to such a wide-ranging problem, Evans believes that bringing people in and training them up in-house is one answer.
Apprenticeship schemes
One organisation that has gone down th is route by introducing its own apprenticeship scheme is IT infrastructure consulting services provider Glasshouse Technologies, which employs about 100 staff in the UK.
It has tried to address the skills gap by setting up an internal "Academy" to put between three and six recruits per intake through a 12-month training course in order to obtain a BCS-accredited Information Systems Exam Board for IS consultants qualification. The first scheme started in March this year, the second in June and the third this month.
The Academy is run by a dedicated manager, with the help of a number of mentors, and Glasshouse is also in the process of recruiting an administration assistant to book training sessions and help with paperwork.
Dave Docherty, professional services director at the services company, explains the rationale behind the move, "We used to follow the standard recruitment model, but we found that getting high-calibre people is difficult. You can find technicians or people with strong management consulting skills, but there are not many that can bridge the gap between business and IT. The market is also quite tired so you tend to get the same old CVs going round."
Unfortunately, however, although increased demand for personnel is fuelling salary rises across the board, "the quality of individuals is not rising proportionately due to what I suspect may be increased levels of complacency," he says.
But this situation was slowing the ability of the business to grow. Although the aim was to increase head count by between 30% and 40% year-on-year – the equivalent of taking on about three staff per month – the reality was nothing like that. To make matters worse, the recruitment cycle itself took, on average, three months to complete, while subsequent training was required to "bridge the gap in the middle".
Introducing the Academy initiative has meant that for the same cost as taking on two to two-and-a-half staff from the open market, the organisation is now in a position to train six apprentices. Moreover, because of salary increases and the additional training costs required for traditional recruits, the return on investment (ROI) for apprentices is swifter at about nine months.
"Being a services company, it is easy to get a tangible return in that you measure billable days and the pound value against that so you can quickly track when ROI has occurred against any given individual," Docherty says.
In addition, because the process of taking on trainees is linked to human resources and skills gaps within the business are worked out using SMART's analysis tool, he says, "You have the ability to turn the flow of apprentices on and off as the business requires."
Honing their skills
For the first four months, the trainees are schooled intensively in four key areas before starting to work increasingly at customer sites to put their knowledge into practice and gain hands-on experience. These areas comprise consulting and professional skills, self-awareness, which involves helping individuals to identify their strengths and weaknesses, and the development of the technical or consulting skills required by apprentices to undertake their day-to-day activities.
The curriculum – which was developed in-house with input from e‑Skills, the Learning and Skills Council and Train to Gain – includes customised modules to cater to individual requirements and is delivered by a variety of methods. These include third-party training providers, self-study, one-to-one tutoring, internal classroom sessions, scenario-based role-playing and the shadowing of more experienced consultants at customer engagements.
The profile of the average apprentice is that of a male in his early-20s to mid-30s, who has had about two years' experience in IT at a small organisation rather than a large blue chip. Docherty says, "The big boys such as Accenture and EDS tend to run graduate schemes, but personally I think they take too long as you are taking a very green individual with no commercial or business understanding. We are much more open in our choice of recruits."
The initial screening of candidates is undertaken by a third-party recruitment agency. It finds Glasshouse 60 people, which it subsequently whittles down to 18. The 18 attend a one-day assessment at the company and nine are chosen to undertake a "Dragon's Den type interview", from which the apprentices are selected.
Docherty advises, "Be very clear about the kind of individual you are looking for from the outset, what skill set you are after, the level of experience that is acceptable and the personality type. If you have any doubt about someone do not take them on because everyone works at the pace of the weakest individual and they could hold everyone else back."
But the initiative has also sparked interest among Glasshouse's partners and customer base, so the company is evaluating whether to make the Academy into a separate fee-paying business unit for inclusion in its next business plan in January 2009.
Graduate recruitment
Another organisation that has gone down a slightly different route, meanwhile, is IT services provider 2e2, which employs about 1,400 staff. It has just taken on a couple of young people in their gap year before university to help it revamp its technology and business processes, but will use the experience to develop an annual graduate recruitment scheme that will be instituted next spring to coincide with the next round of academic recruitment.
Nick Grossman, business development director at the company, explains, "It is always a challenge getting strong people with good skills and the right attitude, particularly in the mid-market. The current economic climate is also making things more difficult as people are more circumspect and wary about making a leap into the unknown."
As a result, as part of a programme to refurbish its headquarters in Newbury, 2e2 decided to launch a competition among local schools and colleges using Facebook to find a candidate who could help it design innovative solutions for a "Generation Y" audience.
"Ernst &Young is saying that Generation Y will make up half of its workforce by 2010 and it is definitely getting younger. They live and breathe technologies such as Facebook, instant messaging and the always-on internet and you have to harness this if you are working in a business applications environment," Grossman says.
"The aim was to help the company work out how to be more successful by creating a working environment that they would understand, so we could get productivity gains more quickly and hopefully also have a positive impact on retention," he adds.
Generation Y
Earlier this year, potential candidates were asked to create an online video in order to submit their ideas of what 2e2 could do to attract and retain Generation Y staff as well as design solutions aimed at that audience.
The 12 most impressive applicants out of 100 were interviewed by a panel and two winners were subsequently selected rather than the one originally envisioned.
The winners, who have been employed since the start of August and will continue to be until the start of the academic term, are working with human resources on how to hone the company's recruitment processes and presentation to make it more appealing to its target audience. They are also helping to redesign the company's business processes and underpinning technology to make them more intuitive to Generation Y staff and are likewise providing input to 2e2's innovation centre, which undertakes technology demonstrations for customers.
In return, the winners receive "an appropriate wage for someone coming in at that level" and will have the first year of their university tuition fees paid for them. The hope is that they will come back at the end of term and help the organisation move the projects on to the next stage, but Grossman does not necessarily expect them to work for it after graduation.
"The initiative will lay the foundations for doing this as a continuing exercise for graduates coming out of university. We hope it will mean that we have more recruitment prominence and staff will find it easier to acclimatise and not move on," he says.
Nonetheless, Grossman warns that organisations should beware of introducing such schemes, as the upfront costs and the time commitment are considerable.
"The business absolutely has to buy in and that is make or break. People around the business have to put in quite a lot of time to get valuable information, but it also has to be made clear to them that the apprentices are there to help not criticise," he says.
Another important consideration is to think carefully about outputs and what success will look like in terms of real deliverables.
"It will not be long until Generation Y are the primary users of technology and will be working in your company or are your customers. But for initiatives such as this to be effective, you have to be honest with yourself about what it is realistic to deliver and ensure that you set it up in such a way to provide an enduring capability and benefits," Grossman concludes.
Read more on Salesforce Management