GitLab 15 drops slops on DIY DevOps flops & muttonchops 
Provider of The One DevOps Platform GitLab Inc has announced the launch of its next major iteration, GitLab 15, starting with its first release version, 15.0, bringing forward new DevOps capabilities in one platform.
GitLab 15 helps companies develop and collaborate around business-critical code to deliver software securely.
According to a recent Bain study, 90% of companies have stated that DevOps is a top priority, but only 12% believe their DevOps practices are mature. Many organisations have integrated various DevOps point solutions, but these tools are often time- and resource-intensive to maintain, ultimately working against their business-critical mission and halting innovation.
With its latest release, GitLab offers organisations a purpose-built, unified DevOps platform that allows teams to focus on driving business transformation.
Drop do-it-yourself (DIY) DevOps
"In today's highly competitive landscape, organisations are under more pressure than ever to deliver software faster and more securely. They need a more mature, comprehensive platform to improve their time to market," said David DeSanto, VP of Product at GitLab. "GitLab solves this problem with The One DevOps Platform. Organisations can do away with their do-it-yourself (DIY) DevOps toolchains and bring teams together from planning to product in a single application, enabling them to ship secure code faster, achieve business results, and improve their teams' experience and collaboration."
Teams can work faster when they have shared visibility into the behaviour of their applications and workflows. GitLab 15 provides new capabilities that extend visibility and enable companies with an end-to-end view of value delivery and application health.
These capabilities create a shared, collaborative context and remove organisational silos. GitLab's observability and monitoring tools can help organisations experience lower incident rates, gain actionable insights into recent performance degradations, and enable real-time triaging of incidents when they occur.
These new capabilities can help shorten lead times from code to production, reduce error frequency and severity, help development teams deploy more frequently, and reduce time to recover after an incident.
Feature-fest
Planned upcoming key features helping improve speed to delivery include:
Product Analytics and Experimentation: Increase the practicality of surfaced data by allowing organisations to test and validate new ideas, and measure adoption of DevOps best practices across teams and projects.

Observability: Unify error tracking, metrics, logs, and traces using an on-by-default open source, end-to-end tested and secure observability solution within the DevOps Platform.

Visibility: Expanded support for all DevOps Research and Assessment (DORA4) metrics including improvements to value stream analytics for projects and groups.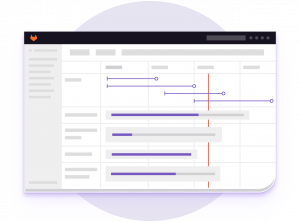 Too often, businesses identify vulnerabilities late in the development process, increasing costs and risking security breaches and business disruptions. This dynamic compounds the new attack vectors introduced by complex, modern applications and cloud-native deployments
With its latest release, GitLab aims to strengthen its ability to help enforce compliance across the entire software development lifecycle and provides built-in security scanning and compliance auditing features, enabling development teams to focus on software innovation without adding more tools or getting in the way of product delivery.
"We believe GitLab 15 will enhance planning capabilities to allow greater flexibility, support a wider variety of workflows and interlink data across every stage of the DevOps lifecycle, from initial analysis, to planning, implementation, deployment, and monitoring. Additionally, GitLab will enrich its DevOps platform with machine learning (ML) capabilities, making existing features more intelligent and automated, improving time to value, and reducing decision-making cycles with recommended suggestions," notes DeSanto and team.
As an end-to-end DevOps platform, GitLab is positioned to deliver a planning suite that enables business leaders to drive their vision and empower DevOps teams to deliver value while improving how they work.
No muttonchops were shaved, damaged or harmed in the production of this story.