CloudBees pours honey on Jenkins support
CloudBees are (is) a bunch of busy social bees (presumably why the firm called themselves that).
The enterprise DevOps company used the DevOps World | Jenkins World event to announce CloudBees Jenkins Support, a subscription service for commercial Jenkins support.
Jenkins is an open source automation server with what has been claimed to be as much as 62 percent market share and millions of active users — it is, essentially, a means of achieving continuous delivery for DevOps teams.
CloudBees says its engineers contribute about 80 percent of the source code for Jenkins.
Additionally, Kohsuke Kawaguchi, chief technology officer at CloudBees, is the original developer of Jenkins.
This whole package is available as a 'support-only' subscription from CloudBees — which comes with technical support and maintenance for Jenkins, backed by an SLA.
The firm promises enhanced Jenkins stability, risk-free upgrades via CloudBees Assurance Program, a 'rigorous' vetting process to verify Jenkins core and identify CloudBees-certified plugins.
Content Continues Below

Download this free guide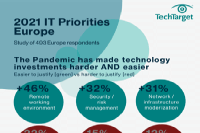 IT Priority Budgets 2021 Infographic
After surveying near 500 European IT sector professionals, the jury is out on what companies across the continent will be spending on in 2021. We dive into what spend will be easier to justify, if budgets for IT companies are on the rise or fall and what the 2021 project rankings are for most in the new year. Download this PDF infographic to find out what the results showed.