REVIEW: Panasonic Toughbook CF - C2
With the tablet market booming, it's no longer just traditional office employees that have laptops and tablets in the workplace.
We've written before about ruggedised tablets being adopted in certain working environments, for example Panasonic Toughpads are now used for producing documents in the aviation industry.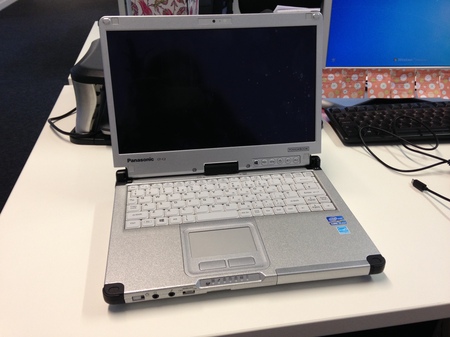 The Panasonic Toughbook CF – C2 is a semi-rugged hybrid device that can be used as both a laptop and a tablet.
The screen rotates and flattens to become a tablet, with handy indicators to ensure that you know which direction to turn the screen in order to switch between the two modes.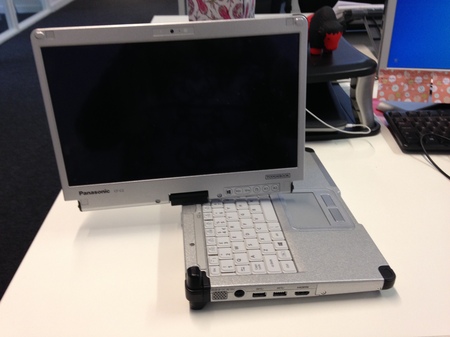 I did manage to get my finger caught in the mechanism though, and since the device is quite bulky, it could cause some real damage if you're not careful.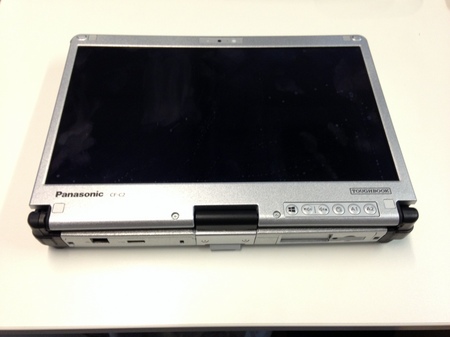 Keys on the keyboard are slightly smaller than I would have imagined for a rugged tablet, especially if the user is wearing protective gloves while using the device.
The laptop itself is quite heavy, but has a strap attached to the back to make it easier to hold and to ensure that it doesn't get dropped. It's in the perfect position for holding the laptop upright, but when in tablet mode it's not in a comfortable place, and would be a lot better if it was adjustable.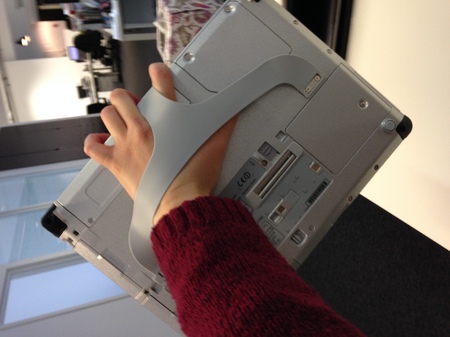 The standard battery can last up to 14 hours due to reduced power consumption, with a higher capacity battery available to provide up to 19 hours of power, and the device also features a bridge battery so that a new battery can be swapped in without having to power down.
The 10-finger multi-touch display is made of strengthened glass and is efficient and accurate, but could become annoying if trying to touch smaller icons on such as button to close a window.
Specs at a glance:
Panasonic Toughbook CF – C2
Display: 12.4 inch HD Screen (1366×768)

OS: Windows 8.1 Pro

Camera: Front HD 720p, Rear 5 MP

Hard Drive: 500GB HDD standard and 128GB or 256GB SSD optional

Memory: 4GB RAM

Processor: Intel® CoreTM i5-4300U Processor with Intel® Turbo Boost Technology
The device we had to test was running Windows 7, but would work very well with the Windows 8 OS, especially due to the touch screen capabilities and tablet orientation.
Where this devices really comes into its own is in its toughness:
brightcove.createExperiences();
We dropped it several times in testing of its rugged label, and it didn't break, bend or smash and worked perfectly afterwards. We even threw some water on it to see if it really does have a "water resistant keyboard and touchpad" and I'm pleased to say that the Toughbook came through completely unscathed and fully functioning, and would work well in a work situation where knocks and drops are likely.
The Panasonic Toughbook CF – C2 is now available in the UK at a starting price of around £1441.