Circular IT series - Trust eco-friendly 'PET bottle' laptop bags 
PET bottles are everywhere.
Despite their ubiquity, few of us know what the acronym stands for and not enough of us think about how they can be recycled after we have finished off their usually-fizzy contents.
PET actually stands for Polyethylene Terephthalate Bottle, it is the most common thermoplastic polymer resin of the polyester family used in fibres for clothing, containers for liquids and foods.
UK-based Trust Electronics Ltd has been pursuing projects concerning the environmental impact of its products, packaging and operations for some time now – and the company has had its eyes on PET.
11 PET bottles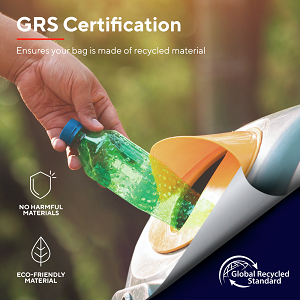 Trust has now introduced its Bologna range of sustainable and secure laptop bags, with each one being manufactured from 11 PET bottles.
Available in black, blue, green and red, the bags are £17.99 from Amazon.
The Trust range of Bologna bags are built with a padded top-loading laptop sleeve suited for laptops up to 16 inches and a zippered front pocket for small accessories, such as a phone and charger.
The bags are described as having an ultra-soft microfiber lining to keep laptops safe from scratches on the inside and bumps on the outside. The bags can either be carried by the handle, or by the removable adjustable strap.
Business as usual is over
"Business as usual is no longer an option. We need to pay evergreen attention to the planet and the people involved in our ecosystem," said Allard Boer, CFO at Trust.
"It's our responsibility and ambition to sustainably design products, run operations and offer consumers smart, affordable and sustainable choices. This is not something that can be achieved overnight. It's a continuous effort and we're engaging and collaborating with our partners and suppliers to make these clever changes in our production, operations and product range," added Boer.
The origin of the materials used in the Bologna bags has been verified according to Global Recycled Standard (GRS). This means that the fabric supplier is GRS certified and a transaction certificate (TC) for each provides proof that the fabric is indeed made from recycled materials.
More information about Trust's sustainability efforts can be found here.