Is Indian tech sector a threat or opportunity to UK's fintech sector?
The lord mayor of London is in India scoping out opportunities for the London fintech sector to develop relationships and trade links with Indian companies.
Lord mayor Charles Bowman is meeting government and industry leaders during the visit. He is with a delegation of UK fintechs.
Bowman said: "India is an important priority market for us. Travelling with me on this visit are some of the best and brightest fintech firms the UK has to offer, and I can't wait to see them fly the flag for UK industry."
Maybe by working in partnership with India fintechs in the UK can share in the inevitable growth that will come in India? London wants to be a leading location for fintech but India will expand much quicker. Look what happened in IT services. Large western IT services companies, apart from a couple, have been overtaken by the large Indian players. And it is not just about cheap labour these days but high level tech and business expertise. Of course lower wages is an added bonus.
Indian cities today are a hive of business and tech activity with the world's biggest corporations rubbing shoulders and sharing ideas with tech startups. Cities like Bangalore today have real estate prices that are a fraction of that in places like New York.
The financial services know-how of London could be attractive to Indian fintechs looking to expand. Tech and financial services expertise combined. But the UK is not alone courting India.
Peter Schumacher, CEO of the Value Leadership Group, which specialises in advising companies on setting up operations in India, said India is a sophisticated tech supply location for many.
"The fintech scene in India is not the same labour arbitrage play as the IT services sector. The whole ecosystem in India has become much more sophisticated in just a few years – in many ways, India is now an extension of Silicon Valley with all the power that comes with this – it is a very formidable part of the global software industry that should not to be underestimated."
He warned London to move quickly. "Singapore has already started a similar charm offensive. Everyone wants to plug into the Indian start-up ecosystem for obvious reasons – access to a huge market and virtually unlimited, low-cost talent."
"India remains a blank canvas. The opportunity to develop without the need to disrupt well-capitalised, deeply entrenched fintech players gives Indian companies vast opportunities for growth in the long run – and the potential for high valuations in the near future. Whether they soar and become global powerhouses or they are acquired by Western companies (along the lines of Walmart's acquisition of Flipkart), the future of the best of these companies is bright."
Content Continues Below

Download this free guide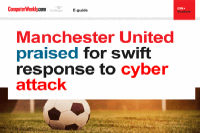 Manchester United praised for swift response to cyber attack
The Theatre of Dreams briefly turned into The Theatre of Nightmares as Manchester United Football Club suffered a cyber-attack on their systems on Friday 20th November. This e-Guide dives into more depth about how the attack happened and what Manchester United's cyber security team did, in order to prevent a loss of data and keep a clean sheet.