Imagine the entire population of Australia using digital banking services from one bank
If I had a pound for every press release I received describing the take up of digital banking channels I would be very rich.
And if I wrote about them all I would have no time for anything else. There is only one direction of travel for digital banking services and it would probably only really be news if take up of digital services declined at a bank..
But news that BBVA has reached the digital versus traditional banking tipping point is worth a mention.
The Spanish banking giant BBVA said half of its customer base are now users of its digital banking services.
The bank announced that 26.4 million of its overall global customer base are now consuming services via smartphones, PCs and mobile devices compared to 22.2 million a year earlier. That is more than the population of Australia using digital services at one bank.
This means half the banks customers overall are digital and represents a tipping point, according to Commenting, BBVA's global head of client solutions, Derek White.
"…passing this 50% tipping point is a testament to the fact that the power of connected technology is bringing real benefits to those who bank with us, and we will continue to accelerate the amazing products and services will offer in 2019 and beyond."
BBVA seems to be doing something right. Back in 2017 I wrote about it being ranked the number one mobile banking app in the world by Forrester. At the time BBVA had around 19.9 million digital customers worldwide. Forrester praised BBVA's strategy to put customers at the centre of its offering rather than just adding functionality.
Content Continues Below

Download this free guide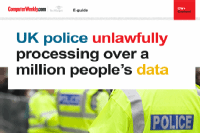 Police unlawfully process over a million people's data
The roll-out of Microsoft 365 to dozens of UK police forces may be unlawful, because many have failed to conduct data protection checks before deployment and hold no information on their contracts. Download this E-Guide to find out everything you need to know about the story.