Innovative solutions for better healthcare in Australia during Covid-19
The following post is sponsored by Amazon Web Services
The Covid-19 pandemic has had a massive impact on organisations and individuals, with the pressure particularly intense on healthcare providers and essential services. As governments scramble to keep the public safe, it has also sparked the innovative use of technology in Australia.
From increasing the point of care for earlier detection, reducing the workload of healthcare workers, and getting vital medical supplies delivered to those who need them, we look at some of these innovations that are implemented in Australia.
Content Continues Below

Download this free guide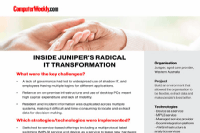 Project Brief: Inside Juniper's radical IT transformation
Western Australian aged care provider Juniper embarked on an aggressive strategy to completely transform its IT operations in just two years. This 1-page brief summarises how this overhaul has helped free up the resources needed to provide better quality of care for residents.