Innovative solutions for better healthcare in Australia during Covid-19
The following post is sponsored by Amazon Web Services
The Covid-19 pandemic has had a massive impact on organisations and individuals, with the pressure particularly intense on healthcare providers and essential services. As governments scramble to keep the public safe, it has also sparked the innovative use of technology in Australia.
From increasing the point of care for earlier detection, reducing the workload of healthcare workers, and getting vital medical supplies delivered to those who need them, we look at some of these innovations that are implemented in Australia.
Content Continues Below

Download this free guide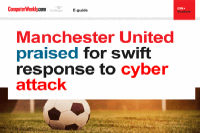 Manchester United praised for swift response to cyber attack
The Theatre of Dreams briefly turned into The Theatre of Nightmares as Manchester United Football Club suffered a cyber-attack on their systems on Friday 20th November. This e-Guide dives into more depth about how the attack happened and what Manchester United's cyber security team did, in order to prevent a loss of data and keep a clean sheet.