PayPal is taking its seductive "buy now, pay later" service to Australia, after successful roll-outs in Britain and the US saw it handle more than £540m of transactions by the end of 2020.
It's clear we've entered the period of lockdown where all the wholesome hobbies we took up simply no longer scratch the itch. All we care about at this point is 21 June, and how many "pay in three" deals we can set up between now and then to maximise our metamorphosis into high-fashion butterflies gilded in exuberant designer pieces we could never afford in one lump sum.
But friends will know what we've done if we re-enter society in Margiela Tabis when they only remember us ever wearing Caterpillars. We're going to have "pay-in-three" thrown at us as soon as we set foot out the door.
It won't be long before we see it pop up in a rap lyric.
"Covid caterpillar paigons always flexin' on me,
I've got Martin on the line and you're on pay in three"
Something like that.
Content Continues Below

Download this free guide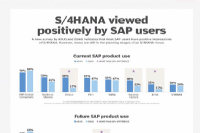 Infographic: S/4HANA viewed positively by SAP Users
SAP has recognised that customers will face challenges and costs when they upgrade to S/4 Hana. It has set out a roadmap to simplify integration, in a bid to lower the transition cost of moving from ECC to the S/4 platform. This infographic shows why most SAP users have positive impressions of SAP S/4Hana.