Like a chief in broad daylight
The CEOs of Amazon, Apple, Facebook and Google have all spoken to US Congress in a joint video call to face some stern questions, one of which being: "Do you believe that the Chinese government steals technology from US companies?"
Apple's Tim Cook, looking more suited to adopting Staffordshire Bull Terrier pups from Battersea Dogs Home than fronting a tech juggernaut, set the tone by stating he had no first-hand knowledge of China stealing information from his company.
Google's Sundar Pichai, runaway winner of most aesthetically pleasing background, copied Cook's answer template, telling Congress his company had no first-hand knowledge of such activity either.
What a waste of time this was. What did Facebook's Mark Zuckerberg have to say?
"Congressman, I think it's well documented that the Chinese government steals technology from American companies," sang the school snitch, who was rewarded with a loving "thank you" from the Republican representative who asked the question.
Over to Jeff Bezos. Actually, you know what, this is getting really boring. Did you hear about that new feature Instagram is rolling out? It's called Reels, and allows you to record 15-second videos set to music. Yes, it does sound a bit like TikTok, you're right. Mark, have you been stealing from Chinese companies? He's hung up.
Content Continues Below

Download this free guide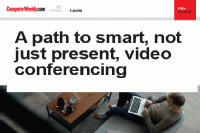 A path to smart, not just present, video conferencing
As businesses plan a recovery from the effects of the Covid-19. Employees now expect employers to offer a modern approach to how/where they work. It won't be enough for businesses to get by with aging processes. Wherever staff are based, video conferencing will be pivotal.