A senior lecturer in management at the University of Exeter has suggested a number of wise-cracking robots have the emotional intelligence required to make them suitable for leadership roles.
Writing in the European Business Review, future of work expert Jamie Gloor casts our minds to famous android entertainers such as Sophia to illustrate the importance of humour.
"Funny AI is impressive because humour requires several soft skills – creativity to combine seemingly unrelated concepts in a funny way and emotional intelligence to deploy it in an appropriate context, as well as to evaluate and respond to feedback," she said.
One lesser-known robot, known only by his stage name, Data, is also being put forward as a candidate to move into a career in business, and with the reopening date of live venues still unknown, there wouldn't be any shame in him at least thinking about it.
While Sophia's very likely being welcomed back into Fortnum's Lodge as we speak, gorging on Scotch eggs and guzzling Krug Grande Cuvée with celebrity pal Holly Willoughby, it's time for struggling robot comedians like Data to get real.
And don't worry about us. If we need a joke, we can just ask Alexa to tell us again about the song she wrote about a tortilla: "Actually, it's more of a wrap." Dear Lord, what a sad little life.
Content Continues Below

Download this free guide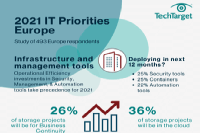 IT Priority Topics 2021 Infographic
This year, a survey was conducted quizzing nearly 500 European IT sector professionals to gather what topics they identified as being imperative for 2021. In this infographic see whether remote working is here to stay, if there will be shifts in information management trends and what infrastructure tools will be deployed by most in 2021. Download this PDF infographic to find out what the results showed.