The day Cisco tried to drown me
The London 2012 Olympics is a test not only for the athletes taking part, but also for the IT suppliers whose technologies help to make it all happen.
Last week, I was given an opportunity by Cisco, one of the key Olympic IT partners along with Acer, Atos Origin, BT and Samsung, to find out about their involvement in the Games – and to try out the first new Olympic venue, the Lee Valley white water rafting centre in Hertfordshire that will host canoeing events next year. More of the white water experience later…
Cisco is billed as the "official network infrastructure provider" to the London 2012 Olympics, which basically means the supplier is providing the switches, routers, wireless access points, firewalls, security appliances and IP telephony to support the operation of the Games.
From a technical perspective, it's pretty much routine stuff for a tech giant like Cisco – the unique challenge is building a large network, from scratch, that will mostly be dismantled and taken away again afterwards.
Cisco's network connects over 100 sporting venues, with 16,500 IP handsets, and 6,000 users of WebEx web conferencing, to be used by Games staff and visitors and media representatives converging on London in summer next year.
The legacy of that equipment will be unspectacular once the Games are over – much of it will be anonymously dismantled and sold on the second-user market.
But perhaps the most impressive part of Cisco's involvement is its commitment to the legacy ideals of the Olympics itself – the idea that the Games should have a lasting impact on the area, not just be the focus of the sporting world for a month.
Cisco is investing $500m over five years to support London's Tech City and other innovation and tech entrepreneurial initiatives. It's also setting up 30 Cisco Network Academies in East London schools – facilities where school children in some of the capital's most deprived areas can learn about networking technology, set up their own networks, and learn some real-world IT skills to help their employability.
While Cisco will inevitably make the most of its association with the Olympics, its association with education and innovation is what is likely to set the supplier apart from the relatively routine business of providing a mission-critical network infrastructure.
So, kudos to Cisco for its commitment.
Less kudos for its attempts to drown me. Well, sort of.
Of course, being at the Lee Valley centre, the assembled members of the press were invited to try out the facilities, taking part in white water rafting on the Olympic slalom course.
Suffice to say, a picture or two tells a thousand words about the experience. Check out the terror on my face here (I'm at the back, on the left):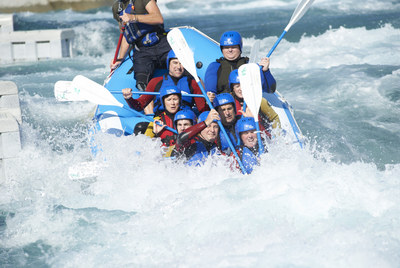 Given that experience came shortly after the one below, you might understand the reason for the look on my face: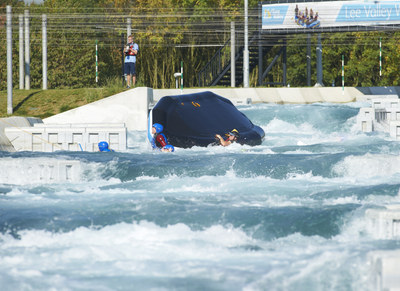 So, Cisco: great networks, but don't get in a boat with them…