IT market backs remain with a month to go
Those in the IT world that have stuck their necks out and revealed which way they will vote are backing EU membership
FROM THE ESSENTIAL GUIDE:
There is just one month to go before the poll stations open and people get the chance to vote to leave or remain in the EU referendum.
The weekend followed a path that has been firmly established over the past few weeks with both sides of the debate gaining headlines because of their latest claims. The Leave camp stoked fears with talk of Turkey joining the EU and on the Remain side the Chancellor was spooking voters with claims there would be a DIY recession after a Brexit.

Download this free guide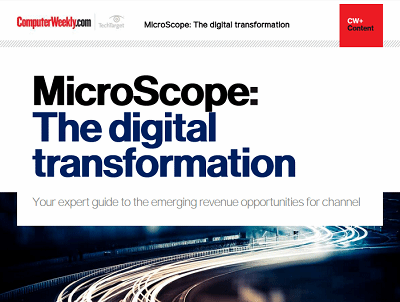 Emerging revenue opportunities for the channel with digital transformation
Digital transformation is a phrase that means many things to many people but for it to have any real relevance to the channel then it needs to mean a chance to make money. This guide will share some of the recent developments in the channel and the latest thoughts about the issue.
By submitting your personal information, you agree that TechTarget and its partners may contact you regarding relevant content, products and special offers.
You also agree that your personal information may be transferred and processed in the United States, and that you have read and agree to the Terms of Use and the Privacy Policy.
Deciding what to do in Europe is a personal decision but the IT industry has been overwhelmingly pro the EU during this debate.
First there were those that share their pro-EU opinion in a letter sent to The Times. Among the list of 200 signatories were tech figures in the form of: Sir Peter Rigby, CEO and chairman of the Rigby Travel Group, Phil Smith, chief executive UK&I, Cisco, David Stokes, CEO of IBM, Vittorio Colao, CEO of Vodafone, Michael Keegan, executive director EMEIA Fujitsu, Seb James, chief executive Dixons Carphone, Dido Harding, chief executive TalkTalk and Gavin Patterson, chief executive BT Group.
Then last week the UK boss of Microsoft Michel Van der Bel, UK CEO shared his views with staff at the software giant pointing out that the firm had a European outlook and would be much stronger being part of the EU.
"Historically, the UK being part of the EU has been one of several important criteria that make it one of the most attractive places in Europe for the range of investments we have made. At key moments in our international growth we have specifically chosen to invest in our capabilities here in the UK," stated the memo to staff
More tech players continue to share their views as the referendum campaigns start to get closer to reaching a crescendo.
"I'm in favour of the European Union, and I suspect that this is a view shared by a lot of business owners. Being a partner nation in the EU is hugely beneficial in terms of trade - especially as many web-based small businesses are increasingly selling products and services worldwide rather than just domestically," said Ed Molyneux, CEO and co-founder of FreeAgent.
"EU membership is also beneficial for hiring too. For tech companies, in particular, it opens up the opportunity to hire world-class developers from Europe who can work alongside the best talent from the UK to create more sophisticated technology, develop better products and services and to help build bigger businesses," he added.
"Closing the drawbridge and isolating the UK from Europe through a 'Brexit' strategy is likely to be extremely unhelpful to any UK business that has aspirations to grow outside of the UK's borders," he concluded.
The view from some of those looking in on the debate with wider European experience is similar with Estonian CEO of Big Data Scoring Erki Kert also keen to remain part of the EU.
"For those of us in the UK technology sector, which this government had charged with being an engine of overall economic growth, 'Brexit' would be disastrous."
"If the UK leaves the EU, every cross-border contract would be torn up and have to be renegotiated – but the ramifications are even wider than that," he added "A Brexit could potentially create barriers to the kinds of people who are creating innovation and opportunity by fuelling the UK startup sector and that talent will simply go elsewhere."
There is likely to be more talk from both sides of the argument before voting day on 23 June but so far the IT community seems to have been fairly consistent in where it stands on the matter.
MicroScope+
Content
Find more MicroScope+ content and other member only offers, here.