Becalmed PC market awaits wind of Windows 8, says Gartner
A sense of calmseems to havedescended on theembattled PC market in western Europe, according to Gartner's latest market stats, as buyers take a "wait and see" approach to their purchasing patterns ahead of the arrival of Windows 8-based PCs and Ivy Bridge ultrabooks. Region-wide, the story
A sense of calm seems to have descended on the embattled PC market in western Europe, according to Gartner's latest market stats, as buyers take a "wait and see" approach to their purchasing patterns ahead of the arrival of Windows 8-based PCs and Ivy Bridge ultrabooks.
Region-wide, the story was once again one of growth of alternative client devices such as smartphones and tablets - which Gartner doesn't include in its stats although other analysts do - at the expense of PCs.
All told, 15.5 million units were shipped into western Europe during the first three months of the year, down 3.1%, with professional PCs down 2.5%, consumer down 3.8%, mobile PCs down 5.1% and desktops up 0.3% respectively, said Gartner. HP lead the market, and Acer, Asus, Dell and Lenovo made up the rest of the top five.
The UK market accounted for 3 million of these shipments, up 2.4% compared with the equivalent period in 2011, with desktops up an impressive 7.2% as a result of strong all-in-one form factor sales.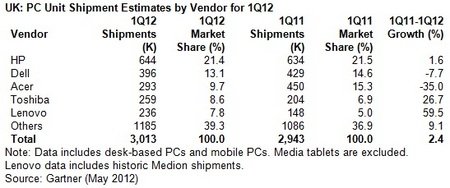 "After a decline of 16% in 2011 the UK PC market showed stability in terms of shipment volume," said research director Ranjit Atwal. "Shipments of professional PCs grew 3.2% but it remains to be seen if this is a sign of real demand of just inventory refreshment."
Added Atwal: "PC vendors are all waiting for ultrabooks and Windows 8-based PCs to enter the market, and the way they can differentiate themselves from their competitors will again come down to price, unless there is innovation in form factors."
As Gartner's data reveal, HP maintained its lead in the UK, although its overall share slipped slightly, while Acer lost out big time, commanding just 9.7% of the market compared to 15% this time last year.
The big winner, however, was Lenovo, and here there were signs that the firm's aggressive pricing stance towards the consumer and small business market was already paying off, partly thanks to last summer's acquisition of Medion.
MicroScope+
Content
Find more MicroScope+ content and other member only offers, here.