CA partners reveal cloud has reached the masses
Spending on cloud computing has risen for the fourth year in a row according to CA Technologies resellers as more customers start to embrace hosted technology. According to the vendor's latest Channel Index survey of partners its reseller base now puts the level of customers that are using cloud at

Spending on cloud computing has risen for the fourth year in a row according to CA Technologies resellers as more customers start to embrace hosted technology.
According to the vendor's latest Channel Index survey of partners its reseller base now puts the level of customers that are using cloud at 62% with a further 20% expected to follow suit by the end of this year.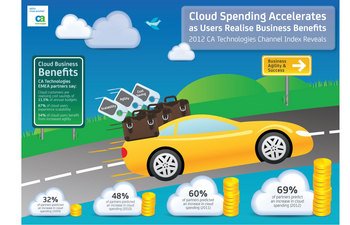 The vendor revealed the results on a live twitter chat with resellers this lunchtime pointing out that more than two thirds of those customers using the cloud benefitted from scalability and just over half from agility benefits.
"Increased cloud spending as predicted by this year's Channel Index reflects that the cloud model is a good response to the growing pressures modern business is facing. IT organisations are asked to deliver new applications and services to a growing number of internal and external users in a fast and cost-effective way." said Marco Comastri, President, Europe, Middle East and Africa, CA Technologies.
"To quickly respond to those business and market demands, customers and partners are looking to different cloud models that help them drive innovation and generate new revenue streams, and we are committed to support them as they move into that new hybrid world where cloud services will combine with their existing systems," he added.
The survey showed that the spending on cloud being handled internally, compared to using a reseller, was also changing with the channel getting more of that money over the next three years.
Chris Ross, vice president EMEA & Asia Pacific, data management CSU at CA Technologies, responded to a MicroScope tweet pointing out that customers had seen savings of just over 10% as a direct result of using cloud technology.
MicroScope+
Content
Find more MicroScope+ content and other member only offers, here.