Stordis to push discount 10Gb Ethernet bundles
Specialist high-performance storagenetworking distie Stordis is planning to help its resellers grab a larger slice of the 10GbE market, offering a 15% discount on integrated bundles comprised of Fujitsu, Dot Hill and Emulex kit. The firm believes that 10GbE networking is not yet a mass market sale w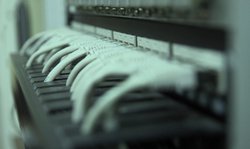 Specialist high-performance storage networking distie Stordis is planning to help its resellers grab a larger slice of the 10GbE market, offering a 15% discount on integrated bundles comprised of Fujitsu, Dot Hill and Emulex kit.
The firm believes that 10GbE networking is not yet a mass market sale when it comes to greater bandwidth and lower latency, preferring instead to pin the real business value on the added functionality that enables firms to fully utilise the extra speed and capacity, according to CEO Alexander Jeffries.
"We have bundled together some of the best technologies currently available to make it much easier for resellers to deliver the benefits of 10GbE," said Jeffries.
Stordis claims that the bundles will be able to deliver over four times the value from a single network port using Emulex network interface cards (NICs) that subdivde 10GbE channels to deliver up to eight virtual ports per dual port card, boosting performance and lowering energy consumption, among other benefits.
"Networking has always created a bottleneck that prevents even the most skilled sys-admin from achieving the full theoretical benefits of virtualisation," Jeffries explained. "The ability to put up to eight 2.5Gb/s Ethernet ports into a single card slot ensures that physical server hardware can be truly optimised."
The bundles will be built around fast XG series Ethernet switches from Fujitsu and Dot Hill 3420 storage arrays, which use 10GB iSCSI over Ethernet to eliminate the need for a Fibre Channel SAN fabric, said Stordis.
MicroScope+
Content
Find more MicroScope+ content and other member only offers, here.