Apple and Samsung slug it out at top of smartphone market
Apple and Samsung are locked in an epic battle for domination of the smartphone market, shipping 34.4 and 34 million units respectively in the last quarter of 2011, according to Gartner. The two rivals consolidated their position at the top of the pile in the crucial Christmas quarter as the rest of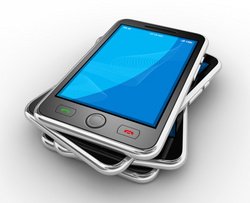 Apple and Samsung are locked in an epic battle for domination of the smartphone market, shipping 34.4 and 34 million units respectively in the last quarter of 2011, according to Gartner.
The two rivals consolidated their position at the top of the pile in the crucial Christmas quarter as the rest of the pack slipped further behind, with firms such as Motorola, RIM and Sony Ericsson struggling to improve volumes and profit margins.
The midfield players were also exposed to a growing threat from the lower end of the market, with Huawei and ZTE both attacking their market share with gusto, said Gartner.

Total smartphone sales to end users in the last quarter were up 47.3% to 149 million units. Full year sales were up 58% on 2010 to 472 million units, meaning smartphones now account for 31% of all mobile devices sold.
"Western Europe and North America led most of the growth for Apple during the fourth quarter of 2011," said Gartner principal research analyst Roberta Cozza.
"In Western Europe, a spike in iPhone sales in the fourth quarter saved the overall smartphone market after two consecutive quarters of slow sales," she added.
Gartner said that strong attention to channel management helped Apple overhaul Samsung, which saw some inventory build-up. Its strong performance looks set to continue through the first quarter of 2012, too, as the iPhone 4S becomes more widely available.
However, noted Cozza, since Apple will not be able to take advantage of delayed sales to iPhone fanatics, its Q1 share will probably turn out lower.

The smartphone OS market (see table left) saw an equally titanic struggle between Android and Apple's iOS, although for Android one might as well read Samsung, as other major Android vendors turned in a weak performance.
Meanwhile, Nokia's first Windows Phone devices did not sell enough to arrest declines in Microsoft's market share. Said Cozza: "Nokia will have to continue to offer aggressive prices to encourage service providers to add its products to portfolios currently dominated by Android devices."
Meanwhile, as the table shows, delays to RIM's BlackBerry 10 platform impaired its ability to retain users and Nokia's Symbian platform also died a death. Bada, Samsung's little known in-house OS, was also down slightly.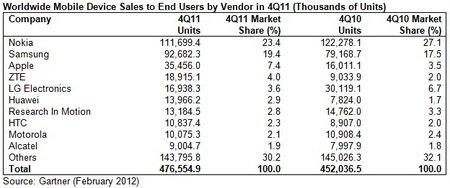 The overall mobile market (see table) saw Nokia retain its market leadership through sales of feature phones in developing markets, while Samsung closed the gap to take second place.
Emerging Chinese players ZTE and Huawei were the fastest growing vendors in the space, with ZTE turning in a stonking performance in its home market while Huawei enjoyed strong growth in its Android portfolio and set its sights on building "more iconic products", said Gartner.
MicroScope+
Content
Find more MicroScope+ content and other member only offers, here.