Comms channel courts Olympic cash
With the 2012 London Olympics looming large on the tnational agenda, the comms and networking channel is setting out its stall ahead of the massive anticipated disruption to working patterns and networks. Telecoms distie Nimans is banking on increasing sales of video-conferencing kit during the year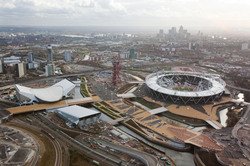 With the 2012 London Olympics looming large on the tnational agenda, the comms and networking channel is setting out its stall ahead of the massive anticipated disruption to working patterns and networks.
Telecoms distie Nimans is banking on increasing sales of video-conferencing kit during the year, and signed a new partnership with Radvision during the summer of 2011.
Head of conferencing sales Ian Brindle said that with the official line from the Government being to think differently about how they travel, Nimans would be heavily promoting video conferencing as "one of the most tangible" means to alleviate the impact of a forecast three million additional daily trips on public transport in the capital.
"Resellers ... can integrate an iPhone 4S, iPad 2, iPod Touch and a traditional laptop onto the same room system video conference call without the costly infrastructure," he said. "A fast-track accreditation process ensures a quick ROI for dealers.
"[This] galvanises our strategy to help dealers deliver prosperity in times of adversity. The Games offer dealers, especially in and around the capital, further opportunities to capture more sales," he added.
The other question for the channel to address ahead of the Games will be that of internet capacity, already a hot topic in the UK without taking the impact of additional, Olympic-generated usage into account.
Significant extra capacity will be needed to accommodate demands on services such as the BBC iPlayer, while social networks such as Twitter and associated content-sharing sites like TwitPic or YFrog may see traffic soar to unprecedented levels.
Business ISP Griffin said that neither carriers nor ISPs could afford to increase broadband capacity ahead of the Games without bumping up their prices. It added that although it could analyse traffic patterns and put measures in place to protect business traffic on its network, this was "not an exact science".
It added that it was still unclear how incumbent BT planned to protect its own exchanges from congestion.
Griffin is now pushing resellers to soup up their customers' internet connections in the coming months, saying that as more carriers enter the Ethernet market, prices are coming down, making it an easier sale for the channel.
Griffin claimed that its partners were already converting customers on monthly broadband contracts worth tens of pounds a month to 36 month contracts worth hundreds.
"The 2012 Olympics could just be the final reason that persuades your customers to trade up to Ethernet before their broadband is affected by streaming traffic at the end of July," said Griffin head of sales Lee Broxson.
Image courtesy: ODA
MicroScope+
Content
Find more MicroScope+ content and other member only offers, here.