Tablet technology heads for wider PC market
A Gartner speical report on the future of computing has suggested that technology today found on tablet devices such as the iPad will break out into the mainstream computing market within the next five to 10 years. Although some have suggested that poor sales of devices that are not iPads meanpeople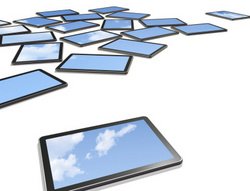 A Gartner speical report on the future of computing has suggested that technology today found on tablet devices such as the iPad will break out into the mainstream computing market within the next five to 10 years.
Although some have suggested that poor sales of devices that are not iPads mean people are not actually interested in tablets per se, but more in Apple's perceived wow factor, the Gartner report hints that such devices, or at least their descendants, will have their day in court.
"Media tablets will instigate change in computing form factors," said research director Angela McIntyre.
"Tablets will be substitutes for several of the consumer electronics consumers often carry with them [and] thin-and-light mobile PCs with tablet-like features will become mainstream, pushing out bulkier PC styles that have become the norm," she said.
Chief among the features destined for the PC market will be multitouch technology, popularised by the iPad and already the de facto interface on a host of competing tablet and smartphone devices, said Gartner.
Such features will also drive a "transformational change" in how end-users interact with their devices, according to the analysts.
"Alternative user interfaces such as multitouch are essential for extending the deployment of computing devices into new markets," said McIntyre.
"Smartphones, tablets and hybrids will become the first pathway to the internet for many. The keyboard on PCs is a major barrier for those who have had no reason or opportunity to become facile with QWERTY," she added.
MicroScope+
Content
Find more MicroScope+ content and other member only offers, here.