Steve Jobs calls it time as Apple boss
Steve Jobs has resigned as CEO of Apple admitting that he could no longer meet his duties because of his health. Jobs has been battling pancreatic cancer and underwent a liver transplant in 2009. He has been on medical leave since 17 January, dealing with an unspecified problem. He will be replaced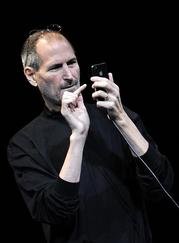 Steve Jobs has resigned as CEO of Apple admitting that he could no longer meet his duties because of his health.
Jobs has been battling pancreatic cancer and underwent a liver transplant in 2009. He has been on medical leave since 17 January, dealing with an unspecified problem.
He will be replaced by the vendor's chief operating officer Tim Cook, who has been running the company day-to-day in Job's absence.
Jobs sent a letter to staff where he revealed the reasoning for the decision to resign: "I have always said if there ever came a day when I could no longer meet my duties and expectations as Apple's chief executive, I would be the first to let you know.
"Unfortunately, that day has come. I hereby resign as chief executive of Apple."


Jobs went on to ask for the position of chairman of the board and recommended that Cook replaced him in the role as CEO.
"I believe Apple's brightest and most innovative days are ahead of it. And I look forward to watching and contributing to its success in a new role," he added.
The board confirmed that Jobs will be given the role he has asked for, which suits his current situation and leaves Cook to run the business while he provides strategic guidance, which is largely how things have been running for the last seven months.
"Steve's extraordinary vision and leadership saved Apple and guided it to its position as the world's most innovative and valuable technology company," said Art Levinson, Chairman of Genentech, on behalf of Apple's Board.
"Steve has made countless contributions to Apple's success, and he has attracted and inspired Apple's immensely creative employees and world class executive team. In his new role as Chairman of the Board, Steve will continue to serve Apple with his unique insights, creativity and inspiration."
"The Board has complete confidence that Tim is the right person to be our next CEO," added Levinson. "Tim's 13 years of service to Apple have been marked by outstanding performance, and he has demonstrated remarkable talent and sound judgment in everything he does."



MicroScope+
Content
Find more MicroScope+ content and other member only offers, here.