Where are they now? The 80s in photos
As our exploration of the MicroScope archive continues, we present a few fresh-faced youths, some of whom are making waves in the IT industry to this day. Here, in an incredibly rare photo opp from 1983, we see the godfather of modern distribution, Northamber's David Phillips. Phillips set up Northa
As our exploration of the MicroScope archive continues, we present a few fresh-faced youths, some of whom are making waves in the IT industry to this day.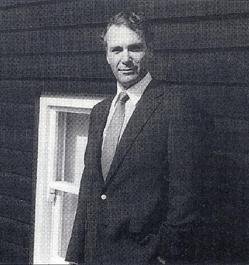 Here, in an incredibly rare photo opp from 1983, we see the godfather of modern distribution, Northamber's David Phillips. Phillips set up Northamber, initially a print and peripherals distributor, from the comfort of his home in June 1980.
He had been an insurance broker for 14 years until he created the Surrey-based business, and continued his brokering activity for some two years after setting up the firm.
Meanwhile, these three lovely chaps will, of course be recognisable as Bill Gates, Sir Clive Sinclair and Steve Jobs, who seems to have come as a matinee idol.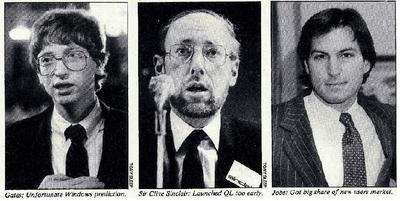 And who could forget Bill Gates' co-conspirator, Steve Ballmer, here pictured with hair...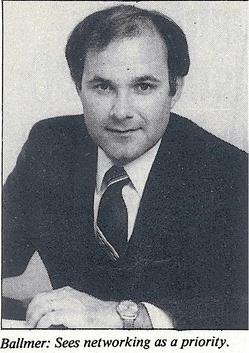 Anyone who was in the channel in the early 80s will no doubt remember the tale of US computer entrepreneur Adam Osborne, pictured here in full-on playboy mode.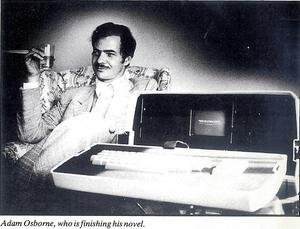 Shortly before we printed this photo to accompany the news that Adam was working on a novel, his company had gone down after he bragged about two advanced new machines and unwittingly destroyed consumer demand for his current models. The resulting inventory glut meant he had to file for bankruptcy.
He went on to found a software company that went down after being hit with copyright litigation, and died in India in 2003.
The novel, incidentally, became a book called Hypergrowth.
Finally, from a 1984 Diary section, we found this snap of our much-missed former editor at large, Guy Kewney, here pictured on the right drawing the winner of a Pilot Software sponsored competition.
"Was this, you ask, because my respect for law, decent behaviour, plain speaking and accuracy is legendary in the micro industry?
"No, I have to confess. It is because Pilot is a few doors up from the MicroScope office and I have to walk past it on the way in," wrote Guy.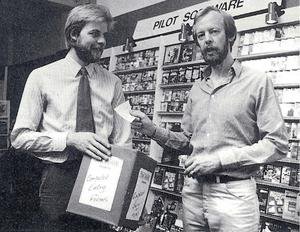 MicroScope+
Content
Find more MicroScope+ content and other member only offers, here.