Jobs springs a surprise by turning up at iPad 2 launch
It was no surprise that Apple launched iPad 2 tonight but the presence of Steve Jobs to present the product did raise more than a few eyebrows. The Apple CEO is signed off on his third leave of sickness and had not been expected to make the launch in San Francisco of the latest version of the vendor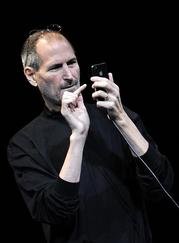 It was no surprise that Apple launched iPad 2 tonight but the presence of Steve Jobs to present the product did raise more than a few eyebrows.
The Apple CEO is signed off on his third leave of sickness and had not been expected to make the launch in San Francisco of the latest version of the vendor's tablet PC.
"We've been working on this product for a while and I didn't want to miss this event," he told the audience at the launch event.
Jobs then said that it had managed to sell almost 15 million iPads last year in nine months and expected this year the second version of the product would dominate the market despite more competition from rivals: "We think 2011 will be the year of the iPad 2".
The second generation of the iPad goes on sale in the UK on 25 March. As expected it has two cameras which can take pictures and video, seen as a key feature for users wanting to access its Facetime feature made so popular on the iPhone 4.
IPad 2 is also both thinner and lighter than the first version, and will be available in white as well as black.
Jobs said that it had used a new chip in the device that made it run faster and allowed graphics to load up faster than on version one.
Photo courtesy: KeystoneUSA/Zuma/Rex Features

MicroScope+
Content
Find more MicroScope+ content and other member only offers, here.