HP misses quarterly targets as PC, services sales disappoint
Léo Apotheker has said that HP has "areas we need to improve" after postinga meagre uptick in sales and missing profit and margin forecasts for the first quarter of its fiscal 2011, which closed on 31 January. The vendorwas punished by the Street last night afterreducing its full-ye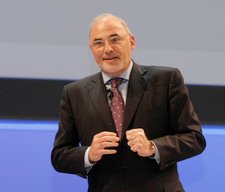 Léo Apotheker has said that HP has "areas we need to improve" after posting a meagre uptick in sales and missing profit and margin forecasts for the first quarter of its fiscal 2011, which closed on 31 January.
The vendor was punished by the Street last night after reducing its full-year sales forecasts by $2bn to reflect the disappointing results, caused by declines in its PSG and Services businesses.
Total sales at the IT giant hit $32.3bn (£19.9bn), up 4% year-on-year, with earnings per share hitting $1.17, while GAAP net profit came in at $2.6bn, up 16%.
For Apotheker's first full quarter in charge, HP-watchers had called for earnings of closer to $1.30 per share on sales of $33bn.
With the PSG business seeing a 1% decline in its total sales to $10.4bn, Apotheker admitted that HP had made assumptions about the market that had not come to pass.
"We assumed we would deliver growth in consumers. Unfortunately this did not play out in Q1 due to softness and the overall consumer PC market. Our consumer PC client revenue went down 12% year over year," he said.
HP blamed weak demand for netbook platforms and consumer desktops, but added that PSG's business sales mitigated the situation, with the strengthening corporate refresh cycle proving a rudimentary safety net.
On the Services side, Apotheker told last night's conference call that HP had not "achieved our expected level of short-term signings or project-based revenue" as unit sales slipped 2% to $8.6bn.
"We need to do a better job in our higher value-added services ... [and] a better job in selling-short term value add projects into our installed base," he said.
"We are doubling our senior management focus on this business and we have added new leadership to the team," Apotheker told analysts.
However, HP's other business units had plenty to be excited about, with ESSN sales up 22% year-on-year tp $5.6bn and Financial Services up 15% to $79m.
HP said that ESSN was demonstrating "increased value" to customers seeking to move to hybrid cloud enivronments through converged infrastructure, while growing interest in leasing IT assets pushed up sales at Financial Services.
Meanwhile, IPG grew 7% to $6.6bn, with commercial printer hardware up 33%, and Software was up 5% to $697m, bolstered by the acquisitions of ArcSight and Fortify.
MicroScope+
Content
Find more MicroScope+ content and other member only offers, here.