Nokia, Microsoft deal 'will disrupt' mobile market
As predicted this week, Nokia CEO Stephen Elop this morning made up with his old boss Steve Ballmer and announced a technology partnership between Microsoft and the struggling Finnish mobility vendor, with the two saying they would "disrupt" other mobile ecosystems. In an open letter publi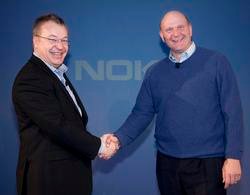 As predicted this week, Nokia CEO Stephen Elop this morning made up with his old boss Steve Ballmer and announced a technology partnership between Microsoft and the struggling Finnish mobility vendor, with the two saying they would "disrupt" other mobile ecosystems.
In an open letter published this morning, Ballmer and Elop said: "The battle is moving from one of mobile devices to one of mobile ecosystems. Ecosystems thrive when they reach scale, when they are fuelled be energy and innovation.
"There are other mobile ecosystems. We will disrupt them."
The agreement, which comes after Nokia's latest quarterly results statement again disappointed the market, will see Microsoft's Windows Phone 7 OS become the primary platform for Nokia's smartphone estate, edging out the Symbian OS and relegating its MeeGo platform to an open source project.
The two firms pledged to "build a new global mobile ecosystem" and hope to exploit the scale of both companies to bring "unrivalled ... product breadth, geographical reach and brand identity" as they attempt to make up ground lost to Apple's iPhone platform and the growing stable of Android builders.
Nokia and Microsoft have agreed, among other things, to integrate services assets, with, for example, Nokia Maps now to be integrated into Microsoft's also-ran Bing search engine, while its app store is to become part of Microsoft Marketplace.
Meanwhile, Microsoft's development teams will get to work on new applications to run on Nokia Windows phones, as well as ploughing money into future developments of the platform, while Nokia will handle the bulk of hardware design.
Although Nokia's shares took a tumble immediately in the wake of the announcement, analysts have already given a cautious welcome to the deal.
In a note this morning, Richard Holway of TechMarketView said it was "the right deal".
"The very survival of both Nokia and Microsoft in the mobile space now depend on it being a success. The combination of these two last generation powerhouses deserves to be taken very seriously," he said.
Separately, Elop has made a series of changes to Nokia's strategy and operational structure, including the creation of two distinct business units: Smart Devices and Mobile Phones, which the firm hopes will enable it to concentrate more fully on their relevant markets.
MicroScope+
Content
Find more MicroScope+ content and other member only offers, here.