Cisco numbers spook the market once again
Network bellwether Cisco has again frightened off analysts afterCEO John Chamberssaidit had postedweaker margins and talked of slower public sector and consumerspending during the vendor's second quarter, which closed on 29 January. While sales were up 6% year-on-year to $10.4bn (£6.4bn), GAAP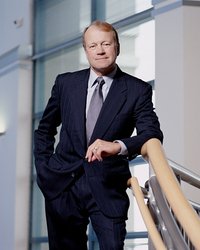 Network bellwether Cisco has again frightened off analysts after CEO John Chambers said it had posted weaker margins and talked of slower public sector and consumer spending during the vendor's second quarter, which closed on 29 January.
While sales were up 6% year-on-year to $10.4bn (£6.4bn), GAAP net profit was down 17.9% on the year ago quarter to $1.5bn, and earnings per share were down three cents on the same period.
Gross margins were down from 65% to 62% on Q2 2010, below analyst forecasts, and Cisco stock lost as much as 10% of its value following Wednesday evening's announcement.
John Chambers, speaking candidly on Cisco's results call, pointed to challenged growth in the public sector and said this was likely to spill over into enterprise and commercial in the coming quarters.
"We saw the same challenges in the number of US, European and Japanese government accounts in Q2. Unfortunately our concerns in public sector will continue to be challenged for the next several quarters," he said.
It also emerged that Cisco's nascent consumer business, which its leadership has talked up so avidly in recent years, declined by 15% year-on-year. Said Chambers: "You will see us adjust appropriately to bring efficiencies to [that] segment."
"It turned out to be a tougher market than we anticipated, and the things that are most important to Cisco ... were not what the customers were buying," he added.
In other areas of the business performance was better, notably UCS, which grew over 700% to an annualised run rate of over $650m. Meanwhile Collaboration, including Tandberg, was up 37%, Wireless grew 34% and Services 18%.
"I believe our strategy is right on course and we are beginning to utilise our services portfolio to assist our customers in achieving their business goals. Our timing and market transitions appear to be pretty solid," John Chambers summed up.
"However," he added. "I also believe we need to execute better with more focus on measurement and execution excellence."
MicroScope+
Content
Find more MicroScope+ content and other member only offers, here.