Oracle chief lambasts new HP CEO
Oracle CEO Larry Ellison has lashed out at rival Hewlett-Packard again, this time overits choice of leadership. HP hiredformer SAP bossLéo Apotheker at the end of last week in a surprise move, and hasdrawn the ire of Ellison as a result. In an email to the Wall Street Journal, Ellison said he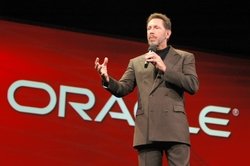 Oracle CEO Larry Ellison has lashed out at rival Hewlett-Packard again, this time over its choice of leadership.
HP hired former SAP boss Léo Apotheker at the end of last week in a surprise move, and has drawn the ire of Ellison as a result.
In an email to the Wall Street Journal, Ellison said he was "speechless" at HP's choice of Apotheker - who was given the heave-ho by SAP followign a no confidence vote in February.
"HP had several good internal candidates...but instead they pick a guy who was recently fired because he did such a bad job," wrote Ellison.
The hiring of a CEO from the software industry has been taken by many as a signal that HP is out for blood following Oracle's appointment of Mark Hurd, and Ellison's remarks have fuelled discussion that he is rattled.
The upcoming court case between Oracle and SAP, which centres on allegations that an SAP subsidiary stole Oracle data, will not help matters.
Meanwhile, analyst Philip Carnelley of TechMarketViews this morning suggested that the appointment of Apotheker could be a prelude to a takeover bid for SAP by increasingly acquisitive HP.
"This would give it a database (Sybase) that it could offer against Oracle's (and give parity with IBM), plus some neat mobile middleware to run alongside its PalmOS. Overall it makes rather more sense for HP to own Sybase than SAP," he said.
MicroScope+
Content
Find more MicroScope+ content and other member only offers, here.