Oracle hires Hurd, Phillips resigns
As reported yesterday, Oracle has officiallynamed ex-HP boss Mark Hurd (pictured)to the board of directos and appointed him president. At the same time, Charles Phillips has also decided to call it a day, handing in his resignation as president and board member. Praising Hurd's tenure at HP, which e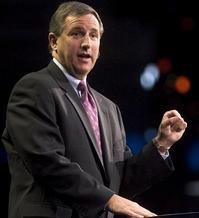 As reported yesterday, Oracle has officially named ex-HP boss Mark Hurd (pictured) to the board of directos and appointed him president.
At the same time, Charles Phillips has also decided to call it a day, handing in his resignation as president and board member.
Praising Hurd's tenure at HP, which ended in disgrace amid allegations of expenses fiddling, Oracle CEO Larry Ellison said there was "no executive in the IT world with more relevant experience than Mark".
In a clear shot at his rivals, Ellison continued: "Oracle's future is engineering complete and integrated hardware and software systems for the enterprise. Mark pioneered the integration of hardware with software when Teradata was a part of NCR."
Hurd also banged the drum, saying: "I believe Oracle's strategy of combining software with hardware will enable Oracle to beat IBM in both enterprise servers and storage."
Phillips, meanwhile, handed in his notice after a seven-year stint. In a statement Ellison said that the former Wall Street hot-shot and US marine had initially made plans to leave Oracle last December but had been asked to stay on until the Sun integration was complete.
Phillips was himself the subject of an industry scandal earlier this year after a jilted mistress forked out over a hundred thousand dollars to display billboards revealing their relationship to the world, including one prominently displayed on Broadway.
MicroScope+
Content
Find more MicroScope+ content and other member only offers, here.