Cisco cautiously optimistic over Euro debt crisis
Cisco is watching the European theatre closely for signs of deepening economic hardship due to the financial crisis over the future of the Euro, precipitated by the near-collapse of the Greek economy. Breaking out growth figures for Cisco's European business on a conference call to celebrate th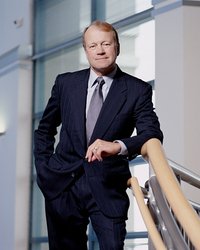 Cisco is watching the European theatre closely for signs of deepening economic hardship due to the financial crisis over the future of the Euro, precipitated by the near-collapse of the Greek economy.
Breaking out growth figures for Cisco's European business on a conference call to celebrate the vendor's third quarter results, CEO John Chambers admitted that "in terms of nervousness it [the debt crisis] had everybody's attention."
He continued: "But we've not seen anything unusual from our teams and they're forecasting a reasonably good Q4 from the European side.
"If there's one theatre we're watching, we watch that one carefully, but I haven't seen anything that makes me abnormally concerned at this time. I think we're cautiously optimistic they'll work through that," added Chambers.
The initial shock eased at the start of the week following a massive bail-out of the single European currency carried out by its member states and the IMF.
Chambers proclaimed the three months to 1 May as "probably our best ever quarter" as he gave a clear indication that the economic recovery in the networking sector is well under way.
The networking bellwether posted net sales of $10.4bn (£7.04bn), up 27% year-on-year, and GAAP net income of $2.2bn, up 62.6% on the year-ago quarter.
Cisco also noted that the UK market grew by 28% during the quarter.
"We witnessed a return to strong balanced growth across geographies, products and customer segments that we haven't seen since before the global economic challenges began. We emerge from this downturn gaining market share [and] a larger share of the total wallet spend of our customers," said Chambers.
Cisco was one of the first keystone industry firms to bravely start hinting at a turnaround during last year, and this has clearly taken hold. With the benefit of hindsight Chambers said Q3 2009 had been the bottom of the market, with Q4 the point at which Cisco tipped back into growth.
However, he also urged caution, encouraging shareholders to "wait for additional economic data before becoming too optimistic."
The vendor is predicting sequential growth of between 3% and 5% during Q4, putting revenues just below $11bn, and expects it will begin seeing more normal seasonal sales patterns as it heads into its fiscal 2011.
Note that the quarter contained an extra week compared to last year, which Cisco estimated added 3% to 4% to its figures.
MicroScope+
Content
Find more MicroScope+ content and other member only offers, here.