GFI MAX MailProtection fighting spam with the channel in mind
If there is one area where a hosted option really works it is in managing email and blocking spam and viruses. The concept is not only easy to understand but it is a channel favorite because it is something that they can show clearly works and produces a ROI.

Download this free guide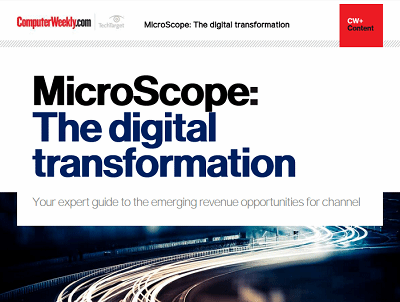 Emerging revenue opportunities for the channel with digital transformation
Digital transformation is a phrase that means many things to many people but for it to have any real relevance to the channel then it needs to mean a chance to make money. This guide will share some of the recent developments in the channel and the latest thoughts about the issue.

By submitting your personal information, you agree that TechTarget and its partners may contact you regarding relevant content, products and special offers.

You also agree that your personal information may be transferred and processed in the United States, and that you have read and agree to the Terms of Use and the Privacy Policy.


If there is one area where a hosted option really works it is inmanaging email and blocking spam and viruses. The concept is not onlyeasy to understand but it is a channel favorite because it is somethingthat they can show clearly works and produces a ROI.

Most usersunderstand the requirement for keeping inboxes clear of spam andthreats but handling that internally can be a drain not just onresources in both people and money but also time. Security managementis rising up the agenda and so the option of turning to a third partyand asking them to take on the burden is an increasingly attractive one.

Asa result there is a growing number of options for resellers anddistributors looking to provide a managed mail service that can beatoff spam and viruses. Although there are a few around it would bedifficult to find one as dedicated to working to a channel model as theGFI MAX offering.

In a nutshell GFI MAX MailProtection has atiered level of viewing accounts starting at the distributor level,then reseller then users allowing those running accounts to keep an eyeon the activities beneath them in the supply chain. it means that adistributor can manage its channel base in a straightforward way andlikewise so can resellers of their customers.

From a channelperspective that makes this a very snug fit with resellers and distiesable to offer the service without a trace of the GFI logo and plenty ofopportunities for their own to feature heavily throughout the interfacethat the user views.

You start by going into the welcome screen,which can be accessed through a browser with the flexibility you wouldexpect from a web service. From that screen the user will see the lastfew days activity with the level of spam stopped and the number ofviruses that have been prevented from getting through.

Divingdeeper into the system from that welcome screen it is possible tomanipulate individual accounts and make sure that users are getting theservice they want and generate more in-depth reports.

But forthose resellers wary of going in and asking cash strapped customers toinvest yet more in security there are a couple of points that needunderlining that should remove resistance to investing in the solution.

The first is the price per mailbox, which is very reasonable and not one that would put the SME off making a purchase.

Thesecond is the options that GFI has on offer with the full package,offering spam and virus protection for users that have not got existingprotection in place, the MailProtection; alternatively there is theMailEdge product which is a management tool working with a usersexisting spam filtering product.

The attraction of the MailEdgeproposition is that it allows a reseller to go to its existing customerbase and introduce them not only to a product with improved managementbut also to the concept of the cloud and managed services which is agood thing to be doing right now because that is the way moreapplications are heading in the future.

The final point worth making is that because MailProtection is watchingand filtering spam it is also possible to quickly identify whensomething has gone wrong and as a server goes down the reseller caninform the customer that there might well be problems elsewhere in theinfrastructure. It is also possible to use the GFI MAX software as acompliance tool enabling the user to continue to email and checkmessages even if a server has gone down in their office.
MicroScope+
Content
Find more MicroScope+ content and other member only offers, here.
Read more on Business Intelligence Tools and Services