Research: SME demand drives distributor revenue growth
The IT distribution business in the UK got off to a healthy start at the beginning of 2011 registering total sales of £465.6m as measured by the CONTEXT Distributor Panel, a growth of 8% in January 2011 compared to the same period one year ago. Driving this growth was sales to small and mediu
The IT distribution business in the UK got off to a healthy start at the beginning of 2011 registering total sales of £465.6m as measured by the CONTEXT Distributor Panel, a growth of 8% in January 2011 compared to the same period one year ago.
Driving this growth was sales to small and medium sized business customers, reports CONTEXT, with revenues attributed to this customer segment up 18% year-on-year in January.
The CONTEXT Distributor Panel - made up of the UK's leading IT distributors, most of whom are members of the Global Technology Distribution Council - tracks sales of both broadline and specialist distributors.
Commenting on the CONTEXT figures, Peter van den Berg, General Manager Europe for GTDC, said: "I'm not surprised the data is showing a continuous and controlled growth for the SMB channel. IT distributors are specialized in enabling small and medium business partners to offer innovative technology solutions to their SMB-channel partners. In times of early recovery, usually smaller and more entrepreneurial businesses are much faster in taking advantage of the latest technology."
"Indexing the sales figures makes the trends even more apparent," said Marie-Christine Pygott, senior PC analyst at CONTEXT, "and shows how robust the IT distribution business has been in the UK since the 2009 downturn. Despite a slight drop in performance in January vs. December, total indexed sales show an increase of 10 basis points in January vs. last year, and a rise of as many as 17 basis points compared to March 2009, when the crisis first started to hit IT sales in the UK."
The CONTEXT figures stress the leading role small and medium sized businesses have adopted in driving the UK's IT distribution business.
"In the second half of 2010 and early 2011, if there was any segment that distributors were able to rely on for steady demand and revenue growth, it was the SMB channel", Pygott said.
"In January, sales to SMB customers considerably outperformed the total market growth. The SMB sales index for the month was up by a strong 18 basis points vs. last year, and by an overwhelming 24 points compared to March 2009".
Corporate-channel sales however, while enjoying a brief growth spurt in March 2010 due to end-of-business-year demand and the release of IT budgets that had previously been frozen, declined rapidly in the second half of 2010 when new economic concerns began to hit the market.
Similarly, although indexed sales to the consumer channel reveal a recovery in late 2009 and early 2010, consumer demand failed to drive revenue growth in distribution throughout the year, and remained too weak in January to even bring sales back to the pre-crisis level of March 2009.
These trends are confirmed when looking at unit sales of computer systems through CONTEXT's UK distributor panel. Consumer PC sales, while very much in the driving seat of PC growth until mid-2010, lost much of their momentum during the second half of last year.
Before then, PC sales to private users had benefited from two major developments. First, growth had been driven by the continuous uptake of Netbooks amongst consumers, with Netbook sales boosted by a growing product variety; vendors' use of alternative sales channels such as telco companies; and low price points that did not strain consumers' tight budgets in times of adverse economic conditions.
Second, consumer PC sales had also benefited from the rising popularity of All-in-One Desktops, which experienced strong monthly year-on-year growth rates in UK distribution throughout much of 2010.
In January this year however, PC sales through CONTEXT's Volume channels, which measure distributor PC unit sales to Retailers and Mail-order companies, registered a 43% decline vs. the prior-year period.
With Netbook popularity impacted by rising tablet PC sales; awareness of the form factor's limitations on the increase; and consumers having to carefully manage their already tight budgets, most of the sales shortfall in the consumer segment in January was down to a decline in Notebook sales - unit sales of Notebooks through CONTEXT's Volume channels went down by a drastic 52% during the month vs. last year.
Y/Y PC Unit Growth by Product Category through Volume Channels, UK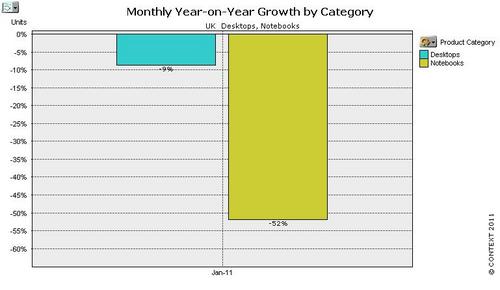 Source: Context SalesWatch Distribution PCs, UK
Sales through CONTEXT's Value Channels however, which measure distributor PC unit sales to Dealers and Corporate Resellers, were up 27% in January vs. last year. Strong unit growth during the month was down to a lasting business demand for mobile systems, which represented the majority of PC sales in the sector and posted an impressive 35% growth vs. the prior-year period.
Desktop unit sales increased by 11% compared to last year while x86 servers, traditionally sold on to SMB partners by distributors, saw unit sales go up by 10% during the same period. With product refreshments in the business sector long overdue as a result of the budget squeezes experienced during the economic downturn, the business segment, and above all the small and medium sized sector with its ability to quickly adopt new technology, is expected to continue to drive PC unit sales through distribution in upcoming quarters.

Y/Y PC Unit Growth by Product Category through Value Channels, UK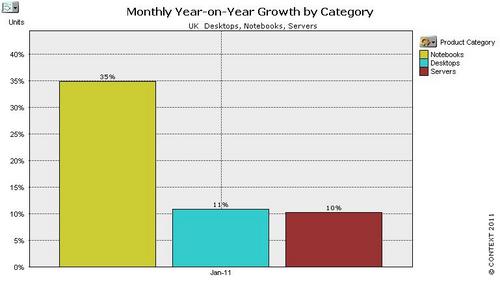 Source: Context SalesWatch Distribution PCs, UK
Global Technology Distribution Council
The Global Technology Distribution Council is the industry consortium representing the world's leading IT distributors. GTDC members drive more than $100 bil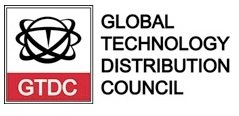 lion in annual worldwide sales of IT products, services and solutions through dynamic business channels.
Our research partnerships enable the tracking of actual sales by product categories and channels as well as unique attributes, such as average selling prices, unit volume, and other key metrics. GTDC member sales are aggregated down to the SKU level in The NPD Group's Distributor Track® in the U.S. and CONTEXT SalesWatch ® database in Europe.
MicroScope+
Content
Find more MicroScope+ content and other member only offers, here.