IT resellers see growth in non-computing
By Greg Allen The IT market has seen a challenging12 months,with many of itssegments being unpredictable, volatile and tough to get to grips with. In short, sales have beenslow and thereare fewwho would disagree with this sentiment. However, in the first half of 2010 GfK Retail and Technology's IT p
By Greg Allen
The IT market has seen a challenging 12 months, with many of its segments being unpredictable, volatile and tough to get to grips with. In short, sales have been slow and there are few who would disagree with this sentiment.
However, in the first half of 2010 GfK Retail and Technology's IT panel can report total volume sales are only down 2.0%. Yes, certain categories like Networking (referring to communication cards, devices and gateways) and Video Projection have been hit hard but on the whole retail sales managed to bounce back with periodic price cuts and promotional work helping hold off a potential catastrophe.
This might then lead us to the conclusion that the business sector of the market and IT resellers have therefore faired much less well without the likes of the retail-centric netbook.
We would be wrong. In actual fact, the IT reseller channel has dropped only slightly less in volume sales, by 2.7%. So what's helping to keep IT resellers from falling into the abyss in tight economic times?
Well, firstly let's not discount the importance of the Computing category (Mobile, Desk and Monitors). It still comprises in Jan-Jun'10 a staggering 67% of the IT reseller channel value. Notebooks themselves have actually seen growth, not only in the retail side of the market, but in the channel too.
Again, in the first half of 2010 notebook value sales grew by 1% year-on-year, and volumes remained flat; a possible indicator of a change in tide for the sector, which experienced tough times in 2009.
If we look towards the Non-Computing side of the IT market we find that proportionally categories such as Storage, Power and Memory have become more important value propositions.
Looking towards Storage, we see a 2% growth in value in the IT reseller channel for the first half of 2010. Over the same time period, Power has grown by 16% and Memory by 63%. These 3 categories alone now comprise 12.5% of the IT reseller channel value compared to only 10% last year.
As IT resellers drop the number of distributors that they work with (as indicated by the 2010 GfK Channel Survey) it becomes even more important to work on effective ranging within the Non-Computing category with those distributors that are able to offer a complete range of IT products.
In summary, IT resellers are actually out-performing the total IT market the Non-Computing categories. The IT reseller channel recorded growth of 1.5% over the first half of the year compared to the 0.9% growth in the total IT market, and in volume the declines were less marked (0.7% vs. 1.3% respectively) for IT resellers.
Computing is still clearly important but with dynamics changing in IT all the time and categories like Storage and Memory offering opportunities for value growth now, it is a good time to evaluate how IT resellers and every party that works with them can get the best out of these challenging times.
(click image to see full-sized charts)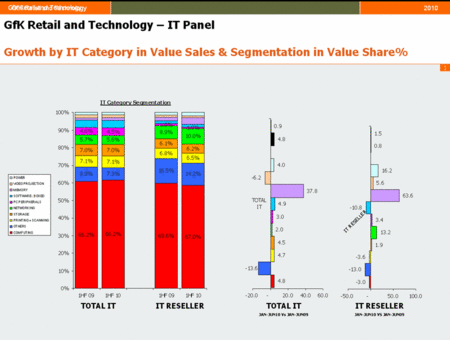 MicroScope+
Content
Find more MicroScope+ content and other member only offers, here.