Emerson still wants to make Chloride part of its 'cradle to grave' service
Once bitten, twice shy. Not a bit of it. Not for Emerson Network Power anyway.

Download this free guide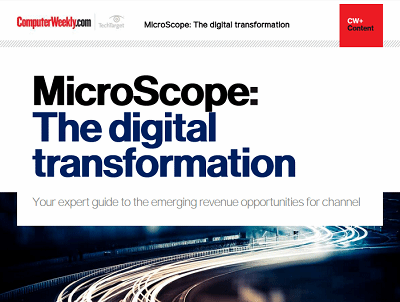 Emerging revenue opportunities for the channel with digital transformation
Digital transformation is a phrase that means many things to many people but for it to have any real relevance to the channel then it needs to mean a chance to make money. This guide will share some of the recent developments in the channel and the latest thoughts about the issue.

By submitting your personal information, you agree that TechTarget and its partners may contact you regarding relevant content, products and special offers.

You also agree that your personal information may be transferred and processed in the United States, and that you have read and agree to the Terms of Use and the Privacy Policy.

Once bitten, twice shy. Not a bit of it. Not for Emerson Network Power anyway. The company which spans AC and DC power and precision cooling systems, embedded computing and power, integrated racks and enclosures, power switching and controls, infrastructure management, and connectivity, has just made a second bid for uninterruptible power supplies (UPS) specialist Chloride, writes Billy MacInnes.

Like the first, which was made in 2008, the bid was rebuffed. For the second time, the UK target complained the offer of £723m undervalued the company and its prospects. Rather cheekily, Emerson's offer of 275p a share, while appearing to be higher than the 270p bid of 2008, would in fact cost the US company 15 per cent less, because it was made in dollars and the dollar has risen in value since its first approach.

Rejecting the offer, the Chloride board issued a statement: "Since Emerson's approach in 2008, Chloride has continued to develop the business and its strategy, both organically and through acquisition, and the board believes the company has better prospects as result of the steps that it has taken in this regard. Accordingly, the board of Chloride considers that this latest offer proposal from Emerson continues to significantly undervalue the company and accordingly rejects it."

It probably didn't help that Emerson made the offer on a Friday (24 April) and gave the Chloride board a mere two days to respond before going public with the details on the Monday (27 April). The consensus among observers and analysts, much as it was with the first bid, is that Emerson will need to raise its bid above 300p a share. It didn't the first time around, but the fact Emerson was prepared to come back suggests things may be different this time. Besides, it would be cheaper than it would have been in 2008.

Outlining its reasons for seeking to acquire Chloride, Emerson said in a statement that it would solidify "Emerson's position in Europe and other key geographic markets" and "transform Chloride from a regional player into a global competitor by leveraging Emerson's broad global scale and geographic access".

The company claimed to have a "long-standing respect for Chloride's business" and said it would use Chloride for its European headquarters. Emerson CEO, chairman and president, David N Farr, described Chloride as "a good business with a solid management team. But in a market where scale is becoming increasingly important, we believe that Chloride will be better able to compete long-term with the benefit of the strength and resources of Emerson. As part of Emerson, Chloride will have the support and long-term investment capability necessary to prosper and compete in the global market."

IMS Research senior research analyst Jason dePreaux suggests a merged Emerson/Chloride would give Emerson a stronger presence in EMEA and strengthen its position as market leader in India. He says: "There is significant allure for Emerson, whose core business is in enterprise financial and telecom datacenters, to add Chloride's prowess in industrial markets like petrochemical and power generation. Furthermore, both organisations are strong in the service business and the combination could supplant APC for the top spot in the growing service market".

Emerson's takeover offer comes against a backdrop where the market in Chloride's primary product area, UPS, is starting to improve after a poor 2009 when, according to IMS Research, global revenues were down approximately 20% on 2008. IMS Research predicts the recovery will continue in 2010 with demand returning first in the low and medium power markets, especially in Southeast Asia and China, but demand for larger three-phase systems will take longer to recover.

Chloride and Emerson have two very different approaches to the overall power piece for data centres. While Chloride focuses almost exclusively on the UPS segment, Emerson has bought and bolted companies together to forge a business that covers the spectrum including power distribution, cooling and air conditioning, power protection, high density racks and infrastructure management and monitoring. Not surprisingly, both are keen to extol the virtues of their contrasting models.

"We've taken our UPS technology a stage further than the average manufacturer and achieve incredibly high efficiencies," claims Chloride technical support manager Rob Tanzer. "We wouldn't be interested in air conditioning or supplying racks or raised flooring," he adds, arguing that it can work with specialists in these areas without competing with them for the whole business.

On the other hand, Emerson Network Power channel manager Eben Owen, prefers to pitch his company as offering a "cradle to grave" service because it can design, build, deliver and service all parts of the power equation. He adds that with its best of breed companies, resellers can pick and choose. By enhancing their product portfolio, they are "enhancing their opportunities to sell into areas they previously walked past".

IT resellers have the opportunity to sell into the same environment to the same customers, but with a "different architecture spectrum". The company has launched a "walk through" service that is designed to help resellers develop an awareness of some of the more obvious things to look out for in a data centre. "They're not necessarily educated enough to spot the opportunities," Owen explains. With a joint visit to the customer, the reseller and Emerson representative can walk through the data centre and take notes of obvious issues that could be dealt with to improve efficiency. As well as giving the customer some valuable feedback on their data centre operation, the walk through also helps to educate the reseller on what to look for.

"We've done a number of walk throughs," Owen says. "It gives us nice traction and more of a trusted adviser feel when we're standing in front of our reseller. We go in there unblinkered. The way in which the reseller engages with us is to open the door."

Emerson is making a bit of a play for the IT channel at the moment. According to Owen, vendors may have been guilty of taking project business away from partners in the past to get more control, there is now a willingness to bring project-related business to partners on Emerson's part. There's also a strong drive to educate partners through its programmes to be educated enough to spot opportunities and fulfil them. Partners can also use the vendor's technical expertise and skills.

The other big player in this space is APC, which has developed a range of products to cover the entire data centre power spectrum. Accordingx to APC director of datacentre offer and turn-key projects, Tony Day, the company has a strong emphasis on the channel to small- and medium-sized projects, servicing clients at a local level. Some partners are UPS specialists, other are cooling experts and some cover all areas, including design.
He argues APC differs from the likes of Emerson because it has always attached great importance to the "IT end of things" as well as approaching the facilities manager. "Our people tended to go in and ask IT people what were the issues they had in the data centre and what problems they needed help with. We work very closely with IT people because it's important to understand the demands on IT. That's the driver."

Like Emerson, APC also provides a walk through service that gives the vendor and its reseller a "quick eye-level view" of the data centre. It provides a "whole range of assessment services" that can be deployed from the data centre across the whole business and can identify areas where there are inefficiencies and where there are "particularly good efficiencies".

In certain instances, APC can also provide forensic analysis to identify where a problem is occurring. Day offers the example of a customer that was unable to trace the cause of a particular problem and APC discovered it was coming from a control board inside the control system of another supplier's UPS.

Owen at Emerson says that the vendor's ability to provide best of breed products across the data centre space is useful when CIOs are having to deal with the burning issues of energy efficiency, cooling and power, even though they are not part of their level of expertise. "It fell into no man's land, but legislation is forcing organisations to act. All of a sudden, it's the hot potato the CIO sits with. That's where Emerson starts the discussion. Everyone is keen to cut their carbon footprint but they have no idea where to start."

One reseller that can claim to have a good view of the power market is Comtec Enterprises which began as a typical IT reseller dealing with SME customers. The company elected to get into the power space as a way of differentiating itself from rivals. It chose to go with APC because the vendor had a range of products which were easy to understand from an IT perspective because they were easy to upgrade and to swap.

According to sales director Nick Ewing, Comtec has "gone from very humble beginnings [in the power space] to become one of the leading companies doing this stuff". He accepts it required a large investment "but the opportunity is good". It started by selling hard-wired UPS from APC, which is where Ewing thinks many IT resellers would start, and has progressed to the point where Comtec is regularly used by other IT resellers to provide power products to their customers. "We've done that with many many APC projects," he says. "Some people give it a go themselves but it's very easy to come unstuck. Others do a bit of a search, find us, and they're comfortable with us doing the work."

Ewing believes the pressure is on power vendors to develop ties with IT resellers because their traditional contractor channel "has no relationship or influence with anyone in IT". Given how critical IT has become, it's no longer "acceptable for the facilities manager to be the sole controller of that infrastructure. If the data centre goes down, the IT manager is liable to lose his job. It's getting to the point where the facilities manager can't take that level of responsibility." As a consequence, the IT manager is getting much more involved with the design of the new infrastructure, including cooling and racking.

Comtec has relationships with what Ewing dubs the three Tier 1 vendors in the power space - APC, Emerson and Chloride - partly because of its IT reseller background where its focus was always on Tier 1 brands. IT has closer ties with APC because Ewing perceives the vendor to have a stronger IT focus than its two big rivals and more of a channel-centric focus.
He argues APC has an edge on its rivals as a result, because its channel is so well-established. "Everybody knows it and understands it," he says, although Ewing acknowledges Emerson is working harder to engage a channel model more. He points to its new partner programme and the fact it has a better suite of products than it had two years ago. "I think it will do better," he adds.

And while Emerson's walk-through offering isn't new in terms of what companies such as Comtec have been offering to customers, he agrees it provides a good opportunity for resellers and for Emerson to get into new resellers. Of the six or seven top level APC partners, the majority are power or facilities based and Ewing believes IT resellers like Comtec could be in a strong position in the future because they "talk the same language as the IT manager".

At a time when IT managers will be looking more and more to efficiencies in terms of power, cooling and lighting - and when the quality of electricity supply is under increasing pressure - resellers that can provide ways for them to save money through power efficiency will have another means of differentiating themselves from the competition. And they will also have the added benefit of strengthening the role they can play in the customer's overall IT infrastructure strategy. Now that really would be a way of bringing more power to the channel.


MicroScope+
Content
Find more MicroScope+ content and other member only offers, here.