Analysis: How important is the CEO?
Just how important is the position of a CEO? It is a fair question to ask after watching SAP Part Company with its CEO Leo Apotheker after just seven months and bring back a dual CEO structure to replace him.
by Amro Gebreel

Just how important is the position of a CEO? It is a fair question to ask after watching SAP part company with its CEO Leo Apotheker after just seven months and bring back a dual CEO structure to replace him.

This contrasts with Apple, where there are ongoing fears by some that if Steve Jobs were to ever leave, more than possible given his troublesome health of the last few years, the company would be left rudderless.

His control and influence over the company is legendary; his vision touches on every major product design and everything Apple does publicly.

So just how important, given those two examples with one CEO being discarded and one being venerated, is the position of the CEO?

Foundation building
David-Joseph Brown, CEO of Ve Interactive, sees the crucial role of the CEO in building a solid foundation for the business, with the public-facing, charismatic role CEO as purely an exercise in marketing.

"The tech business can be perceived to be a rather geeky one,so being able to present a public-facing, visionary and charismatic CEO who defines the brand and epitomises its messages is super appealing. However, this is purely marketing," he says.

"A CEO's crucial role is actually in building a solid foundation for the business, guiding technicals and fundamentals, expanding or contracting the resource/innovation/R&D bandwidth to suit budgets and attitude to risk etc, and operating that business with sensibilities, delivering cash flow, stability and growth. Without this you have an empire built on sand," adds Brown.

Mike Stolz, vice-president of marketing at StorMagic, believes that a strong CEO builds a team, which can survive the loss of any one member, including the CEO themselves.

"The abrupt departure of any CEO is always challenging, but if the CEO focuses on building the right team and cultivating leadership, the company will survive," he says.

The idea that a CEO needs to handle day-to-day business is not a view of the role of the top position seen by John Taffinder, CEO of Shoden Data Systems UK. He believes CEOs are vital in providing leadership to a company and should leave the management of the day-to-day running to senior staff.

"The CEO's primary responsibility is to provide leadership, not management. There should be enough senior staff to ensure the day- to-day progress of an organisation. Leadership encompasses direction, motivation, encouragement and vision," says Taffinder.

"A good CEO should not be sucked into micro-managing minor crises, but should be setting a clear direction for all staff to follow. The great CEOs always bear their successors in mind although many rarely consider this with sufficient rigour," he says.

"Apple probably provides a great example of this and has enjoyed its best ever financial performance in 2009 with Steve Jobs clearly being the 'hands-off' leader rather than the manager. It will be fascinating to see whether Apple can continue to propper when he retires."

Andy Burton, CEO of Fasthosts, believes that the role of the company leader changes as a business matures and grows.

"CEOs should build and reinforce, but not subvert, their company's identity," he says.

"Any professional CEO needs to ensure the success of the company is de-risked from their personality, but leverage their influence to benefit the business. That said, CEOs are not a one-size-fits-all character and the role of that leader will vary with the nature of the business and its life phase.

"For example, an IT start-up, by nature, requires a CEO who is visionary, evangelistic and displays strong commercial sales and marketing skills to present the technology to market. However, in a more mature IT organisation, the skills are more about maintaining organisational agility, governance and performance.

Common characteristics
"What CEOs should have in common is personal integrity, strategic focus, leadership and communication skills. Whether their personal expertise is based in product invention, marketing, commercial, financial or change management they must display good governance and management of the business day-to-day to provide clarity for employees, stakeholders and the market. Other than in an owner managed business, businesses need to have a clear plan to survive the loss of a CEO - nobody is immortal," Burton says.

Ciaran Rafferty, Sophos vice president for UK & Ireland, believes that although a CEOprovides direction, they should not make themselves in-dispensable.

"The position of CEO is one of the most critical roles within any business. Whilst a few chief executives have established themselves as industry superstars, they are out- numbered by those who, largely and anonymously, are solely focused on the role that they were appointed for: to lead and provide direction.

"Each CEO must walk a thin line between providing corporate direction yet not offer so much support that any potential departure could undermine the business's future. The CEO sets the tone and strategy for these organisations, but it is the work of many that gets them where they need to go," he says.

"As we are all aware, the IT sector moves at a faster pace than many others. A CEO's strong leadership at the top of any organisation creates an environment for success and the ability to make change and adapt to the evolving landscape," he adds.

"It is just as important for leaders to be connected to the pulse of customers and prospects as it is critical to understand the needs of its employees. Failure to do so could potentially either result in reduced shareholder value and ultimate job losses."

Market confidence
But in the channel, where personality counts for a great deal, the CEO also has a role to play personifying a company, according to Caroline Hodson, channel sales and marketing director at Trend Micro.

"A strong CEO is critically important to an organisation. They set the vision, the strategy and the positioning on a global scale. A CEO that has credibility across the industry, breeds confidence through the whole business, imbuing it with focus and energy," she says.

"For the market and analysts, the strength and credibility of the CEO drives market confidence and therefore determines investment into the business. The clarity and leadership demonstrated by the CEO is key to analysts to ensure they not only understand where you are focusing and why, but also whether they have the confidence in the organisation to deliver," she adds.

Download this free guide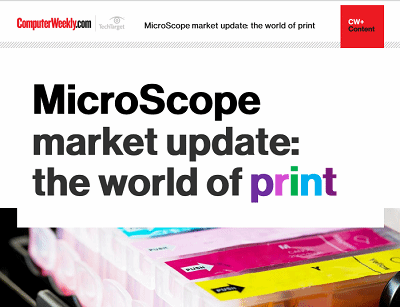 The world of print
The threat of the paperless office is as far away as ever. Get an update on recent printer happenings as well as an overview of the world of managed print services.
By submitting your personal information, you agree that TechTarget and its partners may contact you regarding relevant content, products and special offers.
You also agree that your personal information may be transferred and processed in the United States, and that you have read and agree to the Terms of Use and the Privacy Policy.
MicroScope+
Content
Find more MicroScope+ content and other member only offers, here.