Five minute interview: John Cruickshank, Hughes Europe
Microscope puts its questions to John Cruickshank, sales director, Hughes Europe What is the best/worst advice you have received and from whom? Best: From my earliest mentor in sales - whatever the situation, never give up. Easy to say, hard to do and you have to work at it.
This Article Covers
RELATED TOPICS

Download this free guide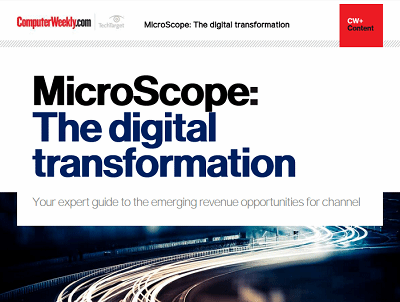 Emerging revenue opportunities for the channel with digital transformation
Digital transformation is a phrase that means many things to many people but for it to have any real relevance to the channel then it needs to mean a chance to make money. This guide will share some of the recent developments in the channel and the latest thoughts about the issue.

By submitting your personal information, you agree that TechTarget and its partners may contact you regarding relevant content, products and special offers.

You also agree that your personal information may be transferred and processed in the United States, and that you have read and agree to the Terms of Use and the Privacy Policy.

MicroScope puts its questions to John Cruickshank, sales director, Hughes Europe

What is the best/worst advice you have received and from whom?
Best: From my earliest mentor in sales - whatever the situation, never give up. Easy to say, hard to do and you have to work at it. Worst: From one of the upper sixth students at my college - you don't have to do anything in the first year, it all happens in the second. In the December of my first year, the college asked me to leave as I had not done any work.

What is the best book you have ever read?
Jackie Stewart's autobiography, Winning isn't everything. An odd title for a sales person to choose? Perhaps, yet 57 of his friends or colleagues died motor racing during his career - so maybe victory at all costs doesn't constitute success.

What do you believe in most?
The importance of treating everyone with care and integrity. Working in previous environments where there was a complete lack of this showed me the damage it can do.

Tell us something most people do not know about you
I worked as a fireman and then a fork-lift truck salesman before entering IT.

What temptation can you not resist?
Chocolate.

What is your most elusive goal?
I never see a goal as achieved because I am always impatient for the next challenge.

Where is the one place you would like to visit before you die?
Australia. I've yet to explore this exciting country full of contrasts.

What do you just have to do before you die?
Drive a Formula One car, fly a stunt plane... High adrenalin stuff.

Which bit of technology would you want with you if you were stranded on a desert island?
An iPod touch. My son got one for his birthday and I am envious of all the applications he can access on it.

Who helped you get to where you are today?
My wife, who has totally supported me through major career changes.

What was your first car and how does it compare with what you drive now?
A 1974 Triumph Toledo, in British racing green. Slow, uncomfortable and unreliable, compared with my Volkswagen Passat diesel.

Do you have any pets?
Two Hungarian Vizla hunting dogs, called Kasper and Libby.

If you could be someone else for a day, who would you be and why?
A professional golfer - the best job in the world.

Who would you least like to be stuck in a lift with?
Someone smelly - from bitter experience.

Describe yourself in one sentence
Someone who is constantly looking to turn challenge into success, both in business and away from it.

Why are you good at your job?
I am open, approachable, enthusiastic and always seek to get the best out of those working for me. Great individuals achieve good things, but great teams achieve great things.

If you were shipwrecked, who would you like to have with you?
My wife again, for sanity and support.

Name three items (smaller than a fridge) that you would like to have with you if you were shipwrecked
My Maui Jim sunglasses, lip balm, plus the ubiquitous Swiss Army penknife.

If you could be any animal for a day, what would you be?
A great white shark - ruthless, efficient, without boundaries and no competition.

If a grizzly bear and a silverback gorilla decided to have a no holds barred fight, which would you put your money on and why?
The grizzly bear for its sheer mass and savagery.

Do you prefer cities or the countryside?
I need both - to work in the city and relax in the country.

Describe your perfect night out
Friends, pizza, beer and watching Chelsea.

What would be your perfect holiday?
Family, sun, sea and a Sunseeker Predator 130 super-yacht.

Sum up the IT channel in one sentence
Full of complexity and opportunity which can be realised by providing even greater customer service.

MicroScope+
Content
Find more MicroScope+ content and other member only offers, here.
Read more on Sales and Customer Management