Get the facts on insolvency bargains
One of the consequences of any recession is that an increasing number of companies get into trouble and end up going into liquidation. Whenever a company goes bust, its shareholders, creditors and employees can expect to bear the brunt.

Download this free guide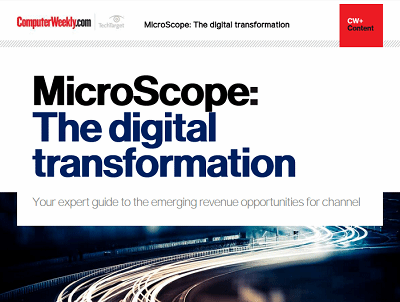 Emerging revenue opportunities for the channel with digital transformation
Digital transformation is a phrase that means many things to many people but for it to have any real relevance to the channel then it needs to mean a chance to make money. This guide will share some of the recent developments in the channel and the latest thoughts about the issue.

By submitting your personal information, you agree that TechTarget and its partners may contact you regarding relevant content, products and special offers.

You also agree that your personal information may be transferred and processed in the United States, and that you have read and agree to the Terms of Use and the Privacy Policy.



One of the consequences of any recession is that an increasing number of companies get into trouble and end up going into liquidation.

Whenever a company goes bust, its shareholders, creditors and employees can expect to bear the brunt. Shareholders will lose the value of their investments, unsecured creditors risk having to write off their unpaid debts, and most if not all of the company's employees will lose their jobs. Insolvency offers little comfort for those who stand to lose out.

If there is a silver lining in insolvency cases, however, it is that the demised company's assets, or even the business itself, will invariably be offered for sale, and at lower prices than would be invited in normal trading conditions. This offers a real opportunity to those businesses that have the resources to expand. But buying assets in these circumstances poses its own challenges – some of these are outlined below.

Does the seller of company assets have the right to sell them?
Where validly appointed administrators, administrative receivers and liquidators effectively take control of the company, they have express statutory powers to sell its assets, whether by auction or private contract. So if you know that a person has been properly appointed to any of these offices, you can be sure that person has authority to carry out the sale.

Note that, in certain circumstances, a sale of a company's assets can be negotiated and provisionally agreed prior to the company formally entering into administration via the "pre-pack procedure". However, any such agreement will be subject to formal endorsement after the administrator has been properly appointed.

How do you ensure that sales are legal?
Buying different types of asset will require different approaches. If you are buying land or buildings, you will want to make sure that a proper survey has been carried out and checks as to planning permission made.

Customer lists will often be a very valuable asset but buyers should take care to ensure that the seller has complied with its obligations under data protection law (including the duty to ensure the data is up-to-date) and is free to sell the list on. Warranties and indemnities in respect of these matters will invariably be necessary.

The simple answer is that, in the absence of in-house resources, you should engage a solicitor and any specialist agents you think appropriate to ensure that all necessary formalities are complied with.

How can you know in advance that a company is likely to become insolvent?
There is no sure way to predict in advance that company is likely to go bust. Some of the largest insolvencies to be announced recently have caused widespread surprise, either because the insolvency has been triggered by some sudden exceptional event or because the scale of the company's financial troubles has not been discovered or publicised before. Certain signs may, however, give a clue to a company's failing position.

A company's annual accounts are required to be prepared on the assumption that it will be able to continue to operate as a "going concern": if the directors are not confident that this assumption is valid, they must say so and prepare the accounts on another basis.

On top of this, the company's auditor, where it has one, is required to make special mention in his report where he thinks that the going concern assumption is not appropriate given his knowledge of the company's financial state. Every company's most recent annual accounts, including the audit report on those accounts, can be viewed on the public record at Companies House.

Even if the accounts suggest no specific anxiety about the going concern issue, they might still provide clues about the direction in which the company is heading. For example, if the company's turnover and/or cash flow is in decline, or if its short-term liabilities are increasing substantially in relation to its ­assets, this could have implications for its ability to pay its debts as they fall due.

A more direct indication of trouble might come from your own knowledge or experience of dealing with the company concerned. If you have not received payment of your bills, or have been kept waiting a long time for them to be paid, this will invariably suggest that the company is having difficulties with its cash flow.

News of important and/or large-scale departures from the company's staff or management could also suggest that it is in internal disarray. Also potentially relevant would be news about legal action taken against the company or the loss of one of its major trading partners.

What are pre-packaged sales? Are they fair?
Pre-packaged sales, or pre-packs, are a technique increasingly used in administrations. Via this technique, an agreement is made by the insolvency practitioner to sell the company's business and assets to a willing buyer before the company has gone into administration.

The virtue of pre-packs is that they provide a quick resolution of the uncertainty which invariably surrounds companies at this time. In the process they save the administrator the often time-consuming and expensive task of trying to find a buyer for the company. A quick sale which saves the jobs of at least some of the company's workforce will obviously be good news for those who are taken on by the new owner.

On the other hand, many have concerns about the ethics of this fast-track procedure, especially if it means – as it often does – the former owners of the insolvent company buying the business and assets at an agreed price before other potential buyers know that they are up for sale.

To address these concerns, new rules came into effect in January this year to require administrators to make public prescribed information about any pre-pack sales they may make, including the identity of the buyer and the price paid.

It is important to note, though, that an administrator who considers entering into a pre-pack agreement is subject to the same overriding legal responsibilities as apply to all areas of the administrator's work. In particular, this means that he should only consider entering into a pre-pack if he thinks that to do so would be in the interests of the company's creditors as a whole, and would be unlikely to cause unnecessary harm to the interests of the company's secured creditors.

Accordingly, a liquidator would risk breaching his legal responsibilities if he made a sale on terms so favourable to the buyers that he ignored those other interests.

It is also worth adding that directors of insolvent companies, which includes those going through administration, can be banned by the Insolvency Service for a period of two to 15 years if their conduct in the period leading to the insolvency proceedings is considered to be unfit.

What should buyers watch out for?
Although insolvency practitioners will have their own legal obligations to creditors and shareholders to get a good market price for the assets of the insolvent company, anyone who buys a business or individual assets in these circumstances will hope to do so at a more favourable price than would be payable if the company were thriving.

Precisely because of the special circumstances, though, buyers need to remain careful – where purchases are made at auctions, there will invariably be less time to conduct searches and surveys. Assets such as land and buildings may come with restrictive or expensive covenants attached, and care needs to be taken to establish whether assets generally are subject to retention of title clauses or charges.

Where buyers take over the company itself, they should also be aware of the implications of taking on its employees and of the danger that the failed company's trading partners may no longer wish to trade with it.

So amid the excitement of trying to snap up bargains the old rule of caveat emptor – let the buyer beware – should always be borne in mind.

John Davies is head of business law at the Association of Chartered Certified Accountants.

MicroScope+
Content
Find more MicroScope+ content and other member only offers, here.
Read more on Finance and Credit