Channel Summit: Approaching the cloud with caution and confidence
In the second part of the MicroScope Channel Summit we asked a panel representing all tiers of the channel what impact they expect from the computing cloud.
This Article Covers
RELATED TOPICS

Download this free guide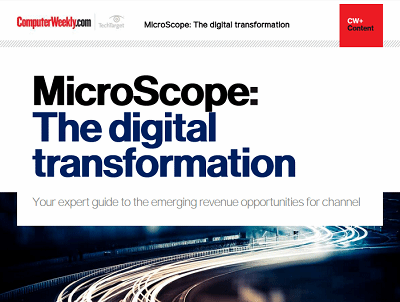 Emerging revenue opportunities for the channel with digital transformation
Digital transformation is a phrase that means many things to many people but for it to have any real relevance to the channel then it needs to mean a chance to make money. This guide will share some of the recent developments in the channel and the latest thoughts about the issue.

By submitting your personal information, you agree that TechTarget and its partners may contact you regarding relevant content, products and special offers.

You also agree that your personal information may be transferred and processed in the United States, and that you have read and agree to the Terms of Use and the Privacy Policy.



In the second part of the MicroScope Channel Summit we asked a panel representing all tiers of the channel what impact they expect from the computing cloud.


---

The panel:


>

Mark Nutt, director and general manager of the Technology Division at Morse


>

Gary Moore, channel director of Colt Telecom


>

Jackie Davy, VP business partnering, sales and distribution at IBM


>

Simon Walsh, managing director of sales at Computacenter


>

Chris Whiteley, head of product strategy at Avnet Technology Solutions


>

Stuart Bulley, commercial director of Apex Computers


>

Alastair Edwards, senior analyst at Canalys


>

Rue Stanley, alliances and partnerships director of Northgate


>

Chris Gabriel, director of solutions and marketing at Logicalis


>

Andy Gass, managing director of Computer 2000


>

Simon Baker, business
development manager of ISV and developer relations at IBM Software Group


>

Alex Tatham, sales and marketing director of Westcoast


---

No one doubts that cloud computing is one of the most hyped phrases of the moment, and in the face of recession customers are expressing interest in hosted services charged on a monthly basis offering service level agreements (SLAs) that provide the security customers need.

But one downside of the buzz around cloud computing is that everyone has a particular view on the technology and confusion exists not just among users but also in the channel.

Q. Is the cloud just hype, or is it really happening?

Jacqueline Davey: There are public clouds and there are private clouds. There is quite a lot of private cloud work going on. Some of them are private because they need to be private. We see an emerging opportunity in the personal space with mail, conferencing and shared work utility spaces.

The role of the channel is that they sell LotusLive. It might be cost per click, but the channel's role is route to market. In the private space a lot of people are buying a lot of kit and need the expertise of the channel to advise on what software infrastructure they need to put in place.

We would recommend a dynamic infrastructure because it has to go up and down, it has to be shareable, and it must be resilient and have automatic provisioning. There is a huge amount of opportunity in SOA [service-oriented architecture] and systems management. A lot of customers are demanding those today and a lot of partners are providing them as part of the value-add they offer.

There will be some very small SMEs for which Google Apps and LotusLive will be a compelling proposition. As a vendor, we have to develop that market opportunity for the channel community, making sure they can rebrand it and package it, that it is collaborative with Salesforce.com and LinkedIn and those partnerships are documented and agreed. There is a lot happening in this space. Service delivery models, software delivery models and infrastructure delivery models are the key areas we will get involved with today.

The cloud is having a massive impact on users and an economic impact on the way people look at projects. People like it because it helps them with the economics.

Garry Moore: For the larger channel players there are project-related consultancy sales. But we believe cloud services will reinvigorate our channel because these services are not just technology sales, but simple technology sales. You just need someone to go in and catch the client at the right moment and at the right point in the cycle. It is a sales conversation, not a technology conversation. We just have to put the right incentives in place. I am optimistic about the market.

Rue Stanley: We are in the business of private cloud because HR and payroll data is very sensitive.

My experience of partners and alliances over the past five years is I have been writing contracts with partners with software-as-a-service [SaaS] and cloud computing in mind, which will enable us to sell software on a monthly basis.

But we have seen a reaction from customers which is interesting. Because we have been in a position to offer this service for a long time, we have seen customers look at it as a tick in the box. They look at paying monthly for three years or buying the software and running it for five years. It is cheaper for them to buy the software and run it as a managed service. So although they like the option of SaaS, very few of them adopt it.

Customers are also very keen to know where their data is. They want to know in which country their data is held and consider whether they trust the people running the datacentre. There are going to be issues around data security, which is where the channel can step in and add some value, becoming the trusted broker answering those questions.

Customers are happy to have some aspects of the service we provide, such as business intelligence, in the cloud, but it is going to take time before HR and payroll information comes out of the private cloud. It will change the way people are viewing things as they put work out to tender. We are starting to see customers talking about cloud, but economics is driving that conversation.

JD: It is the volatility companies have seen in volumes that makes the economics of it look better. One of the things that people like in theory is the flexibility that cloud computing offers.

RS: We are flexible and we charge per head so customers can change the number of users within certain limits.

Once someone has an HR and payroll system, the effort in rolling it out and the way people interact with their systems is important. The idea that you could pick up a solution and then three months later decide to use something else does not take into consideration the impact of having to retrain people. I don't think cloud will enable us to simply pick up systems and drop them as we wish. It will not be as easy as that.

GM: Looking at the resource we needed to adopt Salesforce.com, the one-off development fees were between six and seven figures. You cannot afford to do that too often.

I am very optimistic about the role of the channel in the cloud – people still need to be sold to.

Q. What will the economics of cloud computing look like?

Alastair Edwards: It is going to be a hybrid model – on-cloud and on-premises – so customers need a lot of support in working out what should go in the cloud and what should not and how they manage those requirements.

CW: We have a number of resellers providing cloud desktops and they are charging per seat, per year at a fixed rate.

Traditionally, the IT department made decisions about buying desktops. Now it is a business decision to look at rationalising how it delivers IT to users and the operational expenditure of doing that and the savings it can make. Businesses can save capital expenditure and put in a five-year contract. We provide the hardware and infrastructure for them to do that, and we are looking at the best practices of doing so.

Mark Nutt: It is a very small percentage of the market and the risk for us all is that we cannot afford the costs of educating the market.

We do not have a business model that enables us to go out and educate the market. The cloud has to evolve and more solutions have to become available to create more choice. Until more products come along, demand will be limited and the economic advantage will not be not clear enough.

The technology also has a lot of risk around it, so that is why we are not seeing more demand. The networks are evolving and a lot of customers still perceive risk.

JD: There are going to be private and public clouds, but we will see a significantly quicker rate of adoption of private clouds, with companies putting more applications on their intranet than on public clouds.



Q. Is there internal resistance to cloud computing among some customers?



CW: A lot of customers rely on the IT department and the cloud is a risk to them. I have seen situations where people have suggested techniques and been talked out of it by their IT department.

RS: When we talk to a customer about a managed outsourced service, we talk to the IT department last.

Our business is driven by the users who want to buy outsourced services. We will give them SLAs and a delivery of service that cannot be guaranteed by their own IT department. The cloud has the potential to deliver services quicker than the internal department can.

If there is an issue around security, the IT department would be very concerned about the cloud.

JD: One of the responsibilities for the business partner channel is to help make it easier for our customers' IT departments to get to grips with hosted services and make it easier for them to make it work.

Simon Baker: It is going to be incumbent on the CIO to get to grips with the applications inside their own organisation, otherwise they will be out of a job because people in the business will get it off the internet.
The CIO, vendors and everyone in the channel need to be aware of what is coming and understand the value that they can contribute to the supply chain.

MN: Salesforce.com is a great example because it created an application that drove the market. But there are not enough major solutions and it is not happening as quickly as some people said it would. Two or three years ago, we got involved with a few of them, but we did not make a lot of money out of it.

SB: How visible are the applications that are going on out there that new developers are starting to launch?

RS: The fact that there is no standard in cloud computing will hold up the development of software applications.

SB: Gartner recently published something that came up with six levels: system infrastructure services, application infrastructure services, application services, information services, business process services and the whole ecosystem of management around it.

AG: The breakthrough will come when someone sells this better. The biggest piece missing is the user benefit.

MN: That is the evolution of the commercial model – you need choice, the right commercial model and the right technology.



Q. Is there still confusion about what cloud means?



Simon Walsh: It is what we do, but with a different name on the top.
It looks like bureau services to me, which we had 40 years ago. It is entirely driven by economics. Every conversation we have with our customer community is about the provisioning of IT services – whether that is an application, business process or storage – in a guaranteed cost capacity.

If that is what you want to call cloud, then fine, but the customers don't and we don't either. Serve the customer's agenda, which is managed costs, fixed costs, on demand. This industry is terrible for coming up with terms that mean nothing to the customer. We have to come up with things that mean something to the clients – and SaaS is meaningful.

RS: Managed services are meaningful because we can offer ROI, predictability, security and compliance – and do all of that with managed services.

The cloud offers a nice way of integrating data. You send your data to an address in the cloud and someone else picks it up from that address. You can do the integration in the cloud, but until we see some standards it is not going to happen.

The differentiation for resellers is to advise the customer. By understanding a customer's business, a reseller can select the most suitable option from the hundreds available in the cloud.

CG: It is a reconfiguration of the supply chain and we all have to figure out how it impacts us and how we make money from it.

The non-private cloud is not being driven by the IT industry. Amazon is not part of the IT industry. Our job is to position it and understand it. Private clouds are something we have been doing for many years as provisioned IT. We have to understand it and work out whether it is a threat or an opportunity.

SW: It looks like there will be 10 or 15 processes that can be launched into the cloud that are non-differentiators. Amazon has launched a marketplace cloud for people to sell things to each other. Salesforce.com has given us a CRM cloud.

The vast majority will be internal, private clouds where clients manage their business processes to create a business advantage. This is what we have been doing for the past 25 years.

CW: Everything that comes out of government and the public sector is telling them not to do it themselves and to get someone else to do it – a private cloud with shared public services. That will accelerate over the next few years.

SB: The standard set of applications we use today does not take into account future applications.
The role of the channel is to go out and reach for those and start bringing them into a managed service. There is a lot out there. The role for the channel is to bring it out and make sense of it.

Q. Cloud computing is seen as where the channel is going in the future, so we are trying to work out how that impacts the channel. First, how does it impact distributors?

Andy Gass: The impact of the cloud is unclear. I don't see cloud as being the only way of delivering software in the future.

Some of the lower-level, less mission-critical applications can be delivered in that way, but there is still a real need for software as a business differentiator. I'm not sure the IT systems designed around making sure your customers get the best value would be put in the cloud.

In terms of distribution's role within the cloud, I am not entirely certain. We have some workshops planned around this.

In the hosted environment there is a role for the reseller, distributor and a hosted partner. But I am not sure that is going to give the end-user confidence in the cloud. If I cannot see a way for distribution to add value to delivery of the service I will look for other places to invest, but we still have a lot of work to do to understand it.

Alex Tathum: I cannot see any real role for a two-tier model when it comes to cloud computing. We are more likely to do something different that runs alongside our business.

Cloud computing is currently providing us with a lot of server business for firms building datacentres. That is going extremely well. For the future there is the Microsoft Azure programme, which is looking for companies to provide a service that not many can offer. It will have to work with distribution to work out a new business model to make sure it is still worth doing.

At this point I think cloud computing is slightly overhyped.

Chris Whiteley: If you think about pushing applications up on the network to be supplied and provided by someone else, that has been going on for a long time. The outsourcing model is like cloud, but as it moves towards shared services that is a very big cloud model.

My view is that those people are the channel of the future so they will need the same supply chain that datacentres have. They will need the best infrastructure and delivery.

There is a local cloud, because a government department is not going to put its information out on Google. It will want someone locally to manage that.

Q. How does cloud computing impact resellers?

CG: There are integration opportunities. It is happening, but is it happening without a role for the channel? Absolutely not.

RS: The channel's role is changing during this integration, working out what is good in the cloud and what is better.

Legal aspects create another level of complexity. Customers need to be aware of where the data is, so they might want some SLAs and legal advice. That could be a good service for resellers to add.

People are talking about the cloud being a disruptive technology, changing the way they buy. I don't agree. Customers will continue to buy through their trusted advisers, which is the channel.

SB: There is a role in terms of the assessment of the application portfolio and analysing the workflows because they are going to vary. There are also legal and security implications and seasonal things that apply to certain applications. Do they need it all year, or just get it from the cloud on demand? The channel can manage those options and ultimately help manage it back into the fabric of the corporate environment.

GM: When you start to rely more on hosted applications, the weaknesses in your internal infrastructure can be exposed, so there is something much closer to home here for the channel.

AG: These are ways of solving a problem, but we have not convinced the user there is a problem. I don't think the user proposition is clear enough or nearly strong enough.

SB: Do we know who the users are? There are a whole new batch of applications coming out and different people are using them.

AE: You do not expect a CIO to accept ad hoc deployments, but what is happening is that users are coming in and saying they want to use things like Google.
Microsoft will become less and less the application that is familiar to users. It will take five years and that will drive some of the changes.

SB: There is a different community out there, and we as a community do not understand how they work. They are going to things like Cloud Camp. You have to earn the trust of these people because this is a different group of people.

CG: How do you pay a salesman who has been used to selling an annuity model? Those are the types of issues the channel will start to think about.

RS: There will be a raft of different technologies and this disruptive technology will bring other players, like Amazon, into the industry and applications we have not even thought of. So the IT industry should be looking more outward at some of these potential partnerships.

JD: If a customer comes to you and articulates his requirements in terms of the cloud, you articulate your solution back to him in that language. If he says he wants a virtualisation solution to reduce his emissions, you sell him the technology to meet that demand. ●


MicroScope+
Content
Find more MicroScope+ content and other member only offers, here.
Read more on Sales and Customer Management